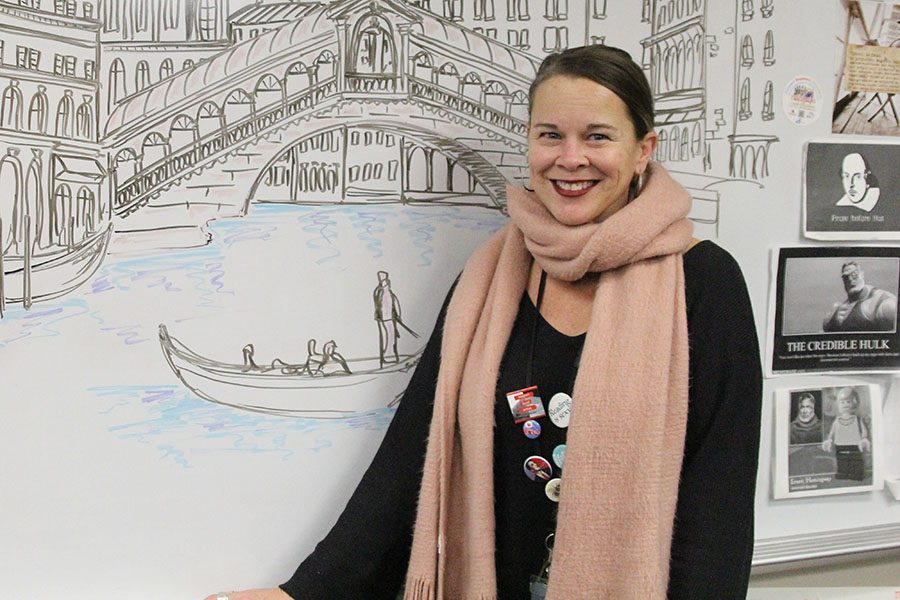 By Nora Lucas
English teacher Kristen Crosbie creates inviting environment within her classroom
Crosbie wants her room to serve as a special place to others like it does for herself
Posters of the places she's traveled cover her walls, student IDs and humorous photos line the edges of her whiteboard and an articulate drawing of Venice takes up the majority of her whiteboard.
To students, it's a vibrant English teacher's classroom; to English teacher Kristen Crosbie, her classroom is home.
"I'm [in my classroom] more than I am at my house normally, and I just feel like it reflects my interests," Crosbie said. "I have a lot of student work up, a lot of travel posters, a little lamp, oriental carpet, my melted wax that smells good, my musical stuff and notes from kids and friends."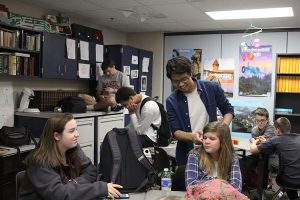 Along with the notes from her daughter when she attended Mill Valley, senior Jason Chen's weekly drawings are a favorite part of Crosbie's room.
"Jason's drawings are ephemeral," Crosbie said. "I wish they weren't. I wish I could cut the white board down every time he does a drawing up there, but they get erased, then I ask him to take us to another place … I wish I could keep [his drawings] there all the time."
After switching into Crosbie's seminar, Chen feels as if he's grown even closer to Crosbie. More than anything, Chen cherishes Crosbie's desk the most.
"I just love talking with her," Chen said. "I always sit right next to her, and we just chit-chat. I remember one time I was really upset … I just came in, sat right next to her desk and we talked it out. She's just always there to listen to me, and she's a genuine person."
Additionally, the serene atmosphere Crosbie has created over the past seven or eight years has drawn Chen to her classroom specifically.
"[Her room] just has a warm scent, and you just want to be in there," Chen said. "It's a class where it's relaxing; there's nothing to be upset about. It's a nice environment."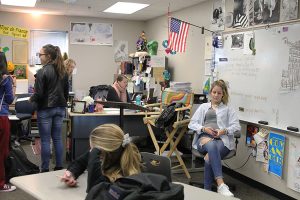 Above all, Crosbie hopes the space she's crafted can be a space that students want to spend time in.
"I want it to be a place where my students come in and feel comfortable, and I need to be comfortable here in order for them to feel comfortable here," Crosbie said. "I always call it my 'blue one family' or my 'blue two family.' You're each others' family, you're each others' support."
(Visited 103 times, 1 visits today)