English teacher Heathyr Shaw wins Kansas Horizon award
Shaw is among 32 teachers state-wide to be awarded for their achievements as exemplary first-year educators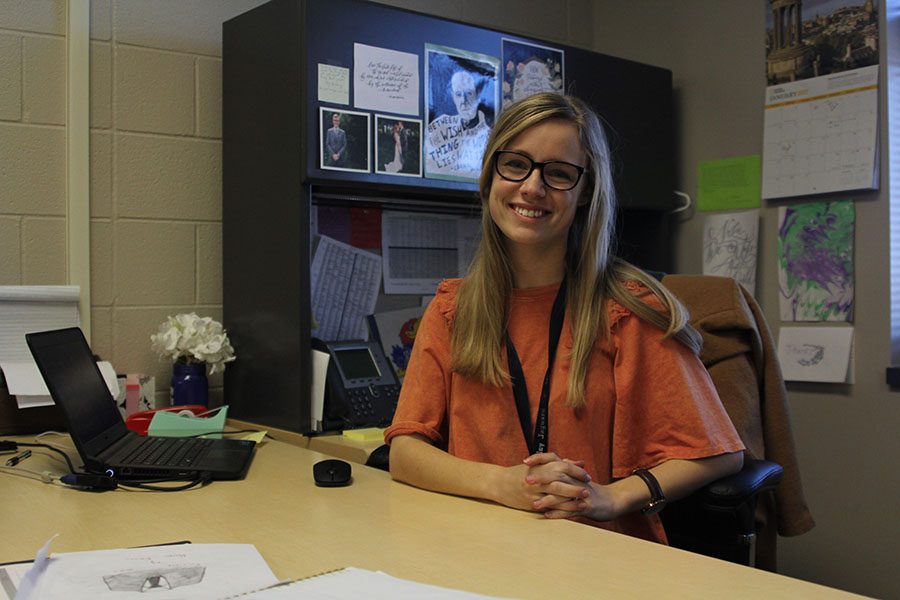 English teacher Heathyr Shaw was one of 32 teachers across the state that recently won the Kansas Horizon award, which recognizes first-year teachers for being exemplary in a number of areas. Shaw was anonymously nominated by a student, parent or staff member for the award last year during her first year of teaching.
After just a year and a half of teaching, Shaw is excited to be given the award which, according to her, will add a boost of confidence in her abilities.
Despite being nervous about her first year of teaching, Shaw feels that the year was made easier due to help from both staff members and students.
"Everyone tells you going into your first year of teaching that it's going to be the hardest year of your career," Shaw said. "It definitely was difficult in that it was a lot of work, but I received so much support from everyone around me. The students were so much better than I ever dreamed they could be."
Junior Sabrina Uriarte had Shaw as a teacher last year and said that even though she was inexperienced, Shaw made an impact on her.
"I think she did amazing at her job. Sometimes teachers can be nervous about their first year teaching, but I could tell she was confident and had a love for English and teaching," Uriarte said.
Shaw gives credit for her achievement to the people she has worked with at the school for helping her win the award.
"I was really excited to find out I won [the award]; it's a huge honor and it feels great to represent the district and the school in this way," Shaw said. "But really, it's a reflection of all the great support I've had here."
In addition to her confidence and passion, Uriarte believes that Shaw goes above and beyond to connect with her students in a multitude of different ways.
"She's definitely deserving of the award because of the way she teaches. She is always so kind and understanding and would give us a lot of tips throughout the year on how to make our writing better," Uriarte said. "I appreciated that she would always write personal comments or notes on all our work, so you knew it wasn't just her putting a grade on it."
Shaw enjoys the feeling of knowing that she was able to make a difference in the life of the individual that nominated her.
"The best part of the award for me was the first stage where I had to be nominated by a student, staff member or parent," Shaw said. "Even though the other parts have been cool as well, to know that I've made a positive impact on the people I'm around everyday and the people that I'm close to is really special to me."
Uriarte also recognizes how hard Shaw works to understand her students.
"I think she was a good teacher especially because she tried to develop a relationship with students that was more than just a teacher-student relationship," Uriarte said. "She genuinely cares about her students and I really like that about her."
In the future, Shaw hopes to continue building relationships with students because she feels it helps to strengthen her role as a teacher.
"I've discovered that I love just getting to know students, so my biggest goal [as a teacher] is to keep getting better at that and figuring out what I need to do to just help students with what they need to do in order to move forward with their lives," Shaw said.
Using the award as a reminder of how hard she has worked will help for her future years of teaching, according to Shaw.
"I think [the award] mostly just gives me some confidence as a young teacher," Shaw said. "Even though I'm not perfect, I did do well in those hard first years of teaching and that's something I can always hold onto and use as motivation to get better in the years to come."
(Visited 38 times, 1 visits today)