English 12 classes participate in Frankenstein themed project
Seniors make monsters and write scary stories to go along with the book "Frankenstein"
During the week of Monday, Nov. 4 through Friday, Nov. 8, seniors in English 12 classes completed a "Frankenstein" themed project. The project required them to make their own monster out of things around their house or craft supplies and write a story to go along with it.
Students made their monsters out of various items ranging from from a cardboard box to a cantaloupe.
Three years ago, English teacher Coral Brignoni created the project because they read the book "Frankenstein" around Halloween.
"I was looking at what what would be some fun ways to break up some of the weight of Frankenstein," Brignoni said. "It's heavy and hard to read, so I just wanted something that would break it up, be fun and also be something that we could do around Halloween time."
In one of Brignoni's English 12 classes, senior Ashley Baranczuk appreciated the project.
"I liked the Frankenstein project," Baranczuk said. "It was a fun and creative break from the usual assignments we have."
The unique monsters and stories Brignoni gets draws her to assign the project year after year. 
"It is amazing because I never know what I'm going to get. I have gotten creatures with Bob Ross type hair, I've got baby dolls that have been completely defaced and and like glued back together in weird ways and and then the stories," Brignoni said. "I think it's just really fun. We get to have some fun, eat some food, read ghost stories and kind of just be chill." 
Baranczuk and her group made their project out of an old tissue box. She enjoyed the presentation part of the project.
"My favorite part was hearing everybody else's spooky stories in the dark and seeing what everyone else used for their monsters," Baranczuk said.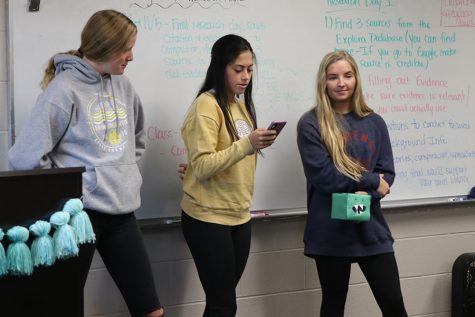 Brignoni believes the creative aspect of the monster project takes away the stresses of senior year. 
"12th grade [is] so much about college, writing and tests that we get away from some of the things that we see as kid activities,'" Brignoni said. "I just wanted kids to collaborate outside of [school], be creative, come up with things that their classmates will like because me reading a ghost story isn't gonna have the same impact as you [students] writing to each other. You know how to put words like 'full send' or 'drippin' in there, and those are things that I wouldn't normally use."
(Visited 323 times, 1 visits today)