Seniors develop original projects for Engineering Design and Development
On Tuesday, April 23, seniors had the chance to demonstrate their projects at the KC Stem Alliance's "Project Lead The Way Senior Showcase."
Ben Wieland, Mill Valley News editor-in-chief
May 20, 2019
Seniors in Engineering Design and Development spent the school year designing original engineering projects to solve real-world problems. They presented at the KC Stem Alliance's "Project Lead The Way Senior Showcase" on Tuesday, April 23 at Union Station.
At the beginning of the year, senior engineering students split into teams to develop innovative projects and compete alongside 479 students from 42 of the region's schools. Each group chose a unique problem to take on. Senior Aniston Cumbie's group decided to take on a problem that plagues frequent flyers everywhere.
"Our group worked on improving the efficiency of airplane lavatories," Cumbie said. "To do this we created an electronic queue for passengers to enter when they wanted to use the restroom. The passenger would then be notified when the restroom is available."
The 120 engineering projects submitted to the contest were judged on two criteria: innovativeness and marketability. Cumbie, whose group's project on airplane lavatory efficiency won one of only 11 Innovator Awards, took steps to make sure her group's research and design stood out to judges.
"The judges liked our enthusiasm and dedication to our project," Cumbie said. "[They also liked] our idea and prototype."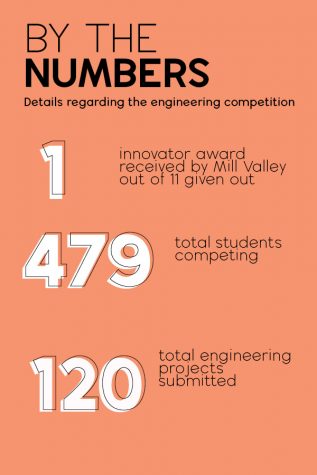 According to senior Colin Prosser, the project wasn't just about winning awards; simply developing a working prototype was just as valuable. Prosser, whose group developed a prosthetic hand to help amputees kayak or paddleboard more easily, believes he learned a lot by working on his project.
"I took away a lot from going through the trial and error of the engineering process over an extended period of time," Prosser said. "I also figured out how to work on one common project with the same group of people."
To engineering teacher Gayle Kebodeaux, the benefits of the year-long project culminating in what she calls a "science fair on steroids" are many and varied.
"Working on projects like this is very much what students will do in their careers. It's very much the path that you would take if you worked at Garmin, Cerner or Burns and McDonnell as an engineer," Kebodeaux said. "It's also a great way for students to get to show off. If you worked on a project for nine months in high school and you are really proud of it, it's an amazing way to show it off to entrepreneurs, businesspeople and patent attorneys."
(Visited 164 times, 1 visits today)