Engineering students attend bridge building competition as an extension to class
All ten students placed in the top 100 with one student placing in the top 20
Ten engineering students went to a bridge building competition at the Museum at Prairie Fire on Saturday, Feb. 3. Out of about 140 competitors all ten students made it in the top 100, with one student placing in the top twenty.
The competition was a voluntary option for the students in engineering teacher Gayle Kebodeaux's second and third level engineering classes. According to Kebodeaux, it benefit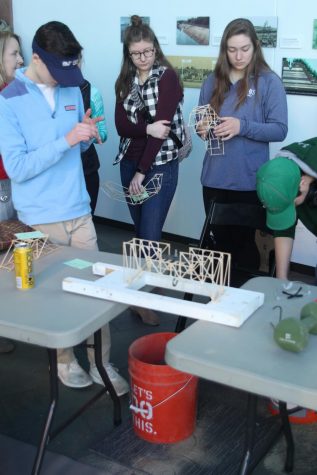 ed students to observe and learn from students at other schools.
"[Students] can compare their skills to others across the metro," Kebodeaux said. "They learn the [material] in class, [and] the other [beneficial] part is competitions sometimes make things more fun."
Each students in Kebodeaux's Principle of Engineering class was required to design and build a bridge as part of their grade, but a few students like sophomore Nathan Greenfield made the decision to put their bridges to the test.
"I just thought it was kind of cool to compete, and I thought it was something fun I could try out," Greenfield said. "I thought we had a pretty good design. I mean, I didn't really know whether it was going to be [successful]. For all I knew, it could've failed really early on."
Kebodeaux encouraged students who were interested in the topic to compete in the competition due to the added exposure to other schools and the learning experience.  
"I think it ups the rigor of what they are learning," Kebodeaux said. "This is a little bit over and beyond what they have to do in class, and they also go out and see the different people that compete, the different schools that compete and it tends to get them more excited about what they are doing."
Nerves were a factor for Greenfield, who had to be aware of multiple factors while competing with his bridge.
"I was a little nervous, [and] it got a little nerve wracking there, dumping the sand into the bucket," Greenfield said. "I thought my bridge might be on the edge of failure, and I had to be careful [because] I didn't want to dump the sand in too fast and [cause it] to fail."
Kebodeaux said the reason she took her engineering students to the competition was not to win, but rather to experience new things and to learn more about what it takes to build a bridge.
"The school who won the majority of the top places had bridges that looked just alike, which meant that their instructor most likely gave them a design and they all did [that design]," Kebodeaux said. "I felt that the kids wouldn't learn anything, so I'm very comfortable with us learning more and not winning, and seeing how that works."
(Visited 103 times, 1 visits today)