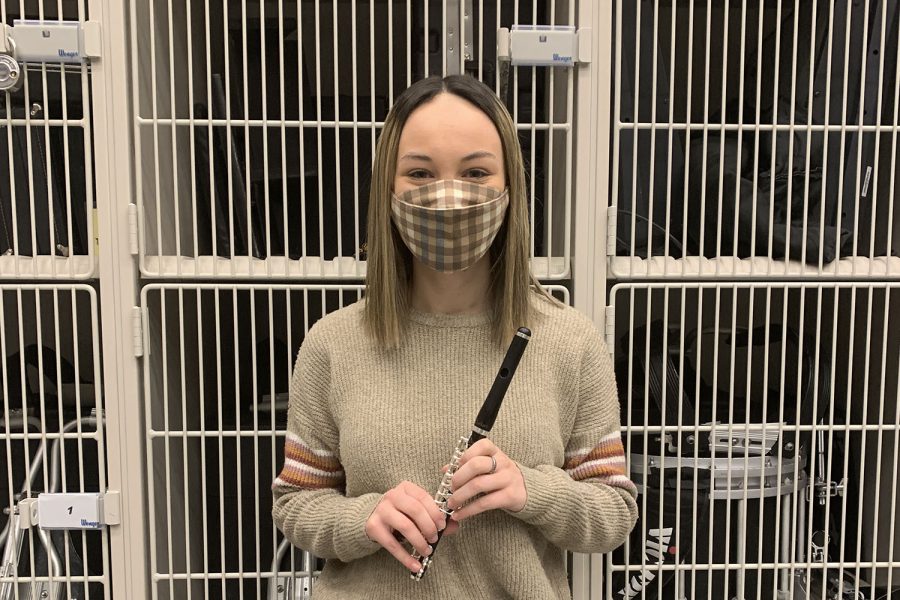 Ella Greenup earns state honors for school band performance on piccolo
April 16, 2021
Following in the footsteps of her mother, who's been playing the flute since elementary school, and her grandfather, who was a college band director in Louisiana, senior Ella Greenup decided to play the flute at ten years old and join the family's musical roots. 
Finding that she had a passion for playing the flute, Greenup began taking private lessons with an instructor that same year and has been taking private lessons ever since, which has helped improve her skills and musical appreciation.
"My skills have improved over the years mostly because I have been taking private lessons since I first picked up a flute," Greenup said. "I used to not enjoy playing all the technical stuff, but now it's some of my favorite things to learn because of the challenges it brings."
Wanting to get more involved and advance her skills further, in eighth grade Greenup auditioned for symphonic band, which she was one of three freshmen to make it into the band. Greenup has been a member of the symphonic band for four years and has been first chair for two years.
Being a member of the symphonic band has helped prepare Greenup for college courses.
"Symphonic has really challenged me with difficult pieces and it has mentally and physically prepared me for band in college," Greenup said.
Following her membership to the symphonic band, after a recommendation from band director Deb Steiner, Green up decided to audition for district band. She made district band and was given the opportunity to audition for All-State band. 
Greenup was accepted into All-State band as the only piccolo player, which came as an unexpected surprise.
"Being the top piccolo in Kansas really came as a shock for me because there's only one piccolo spot in the All-State band," Greenup said. "Unlike the 13 flute spots, It means I have to set an example for those around me and help when I can to help create more amazing musicians."
Being a member of All-State band validated all of Greenup's hard work and changed her perception on playing written music. 
"Becoming a piccolo for the All-State, not only means that I'm the best piccolo in Kansas, it means that all my hard work that I have been focusing on for the past seven years has paid off," Greenup said. "I always think of music in a different way now because I now never look at music and think "jeez that looks hard" I think, "what can I do to nail that section?"
To continue her music passion, Greenup plans on majoring Music Education at Kansas State University. 
"I plan on becoming a marching Wildcat at K-State, and joining some of the large ensembles," Greenup said. "I hope to become a middle school band director."
Greenup recommends that anyone who wants to play an instrument take private lessons, as these lessons helped her perfect her musical abilities.
"If you want to get into music, I highly suggest taking some sort of lesson, either through Steiner, or take private lessons outside of school," Greenup said. "It is totally worth it in the end."
(Visited 1 times, 1 visits today)