Eligible seniors register for the upcoming midterm election
The school hosted a voter registration fair during lunch on Friday, Oct. 5
Seniors had the opportunity to register to vote during lunch on Friday, Oct. 5 for the upcoming midterm election.
Senior Annie Myers helped organized the voter registration fair and thinks everyone should register because of how easy the process is.
"Registering to vote is super easy; you can either register through a paper form or online. We personally chose to do paper forms because it would've been easier logistically at lunch, but both ways only take around two minutes," Myers said. "You fill out your name and personal information, select your party affiliation, sign and you're basically done."
The usual voter registration process involves either going online or going into an office, so senior Hannah Barnes felt especially fortunate to have had the opportunity to register at Mill Valley.
"The benefit to having voter registration at Mill Valley is that it gives kids better access to it, a lot of kids don't think about it when their birthday is in August and they don't think about how there's even a midterm election," Barnes said.  "So it provides them with the opportunity and information to do so, without feeling awkward about having to go to an office and not knowing anyone there."
Barnes thinks voting is very important and helps to engage with politics and stay informed.
"[Voting] is how us, as Americans, can express our opinions. It is our civic duty," Barnes said.
"Around 35 students registered at the fair. The voter registration fair was planned by seniors Ally Nguyen, Kate Backes and Annie Myers and who were happy with how it turned out.
"We were very happy that so many people were able to get it out of the way because come November 6, that's around 35 more people who will be able to vote and make their voice heard in the government," Myers said.
There was a lot of hard work and time put into organizing the fair.
The steps involved in planning voter registration included contacting administration to ask for permission to plan the fair during lunch, reaching out to the Johnson County election office to get the correct paperwork and instructions for how to go about registering students to vote, and publicizing the fair by making posters and putting the news in the announcements.

Seniors! If you'll be 18 by Tuesday, Nov. 6, then… pic.twitter.com/3CzdJRyyTd

— Mill Valley News (@millvalleynews) October 5, 2018
According to Myers, "It's so easy to register to vote, but not everyone might know how to, which is really why we wanted to hold the voter registration fair."
Myers feels it's important for everyone eligible to register.
"Every vote really does matter, and right now the amount of young voters is very minimal compared to what it could be," Myers said. "I think that if we have the opportunity to choose what happens in our lives to whatever extent possible, we should take it and let our opinions be heard."
(Visited 13 times, 1 visits today)
About the Writer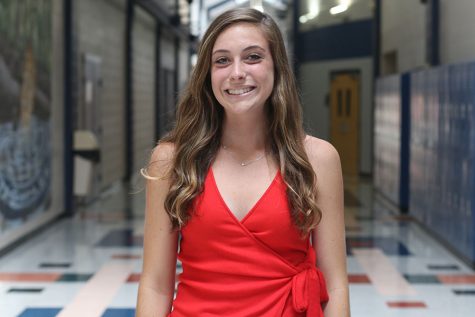 Sophie Lecuru, JagWire assistant editor
This is junior Sophie Lecuru's second year on the JagWire. This year, she will be taking on the position of assistant editor. She is also involved in extracurriculars such as tennis and National Honor Society. In her free time, she can be found playing tennis, reading or spending time with friends.