Effects of Poor Mental Health
December 11, 2021

Because mental health issues are not immediately visible, it can be easy to dismiss them. However, it can be detrimental even to one's physical health, something Baumgart has experienced.
"People say it's all in your head to dismiss it," Baumgart said. "And it is all in your head. The problem of mental health is that you don't have physical symptoms. You don't have rashes and you don't have a fever for most of the time, but it's there and it's always affecting you. Mental health affects your physical health. One time, I was really having tough mental health and I got physically sick. I wasn't sick before that, but I was not able to do anything. I just didn't have any energy."
 A common effect of mental health issues is a lack of confidence. Some students have dealt with more mental struggles after the reduction of COVID-19 restrictions. According to a junior female who did not feel comfortable having her name published, masks provided a sense of relief.
"I think people with mental illnesses and insecurities can relate that wearing a mask was just so much more comforting because I wasn't worried about what half of my face looked like and I wasn't worried about people judging me," said the female.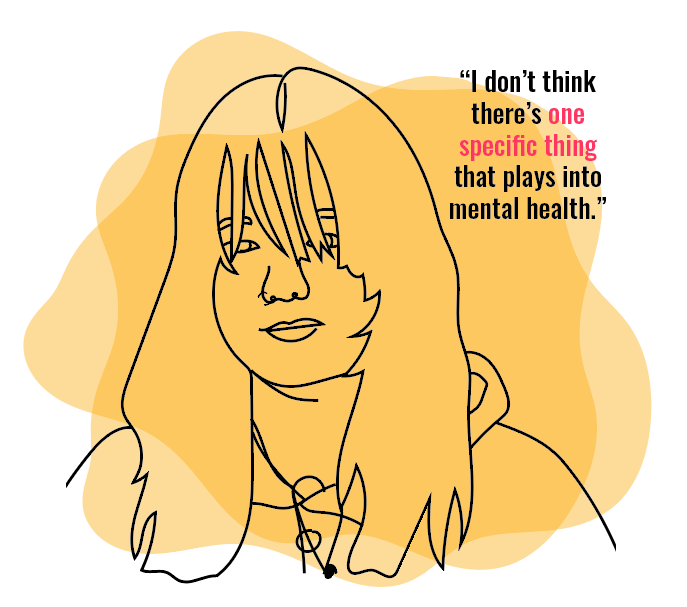 It is common to hear people say they are depressed or anxious without an official diagnosis, or even as a joke. According to Gudenkauf, these statements are inconsiderate to those who are actually struggling.
"Throwing out diagnostic terms, especially without the credentials to make that diagnosis, diminishes the seriousness of the illness for those who are diagnosed," Gudenkauf said. "This is disrespectful to those who struggle."
 Similarly, Johnson feels too many mistake sadness for depression.
"I think there are a lot of people out there with depression lately," Johnson said. "I don't think people understand that being sad is different than being depressed. If you're sad for a few days because something upset you, that's being sad. Being depressed is feeling dead. You could be in a crowd of people and still feel all alone by yourself, and it lasts for weeks to months sometimes."
(Visited 1 times, 1 visits today)