Eastern Kansas League challenges and improves athletes across all sports
After one year in the new league, athletes and administration look ahead at future seasons to come
The first year of Mill Valley athletics competing in the Eastern Kansas League provided both new challenges and a change of pace from the previous years in the Kaw Valley League.
The athletic year thus far has been highlighted by another football state championship, first place league finishes for both girls and boys bowling and second place league finishes for boys cross country and wrestling.
Going into this season, athletic director Jerald VanRheen — who has experience in the EKL at Gardner as a coach — knew that the physicality and competitiveness of the league was something that athletes needed to prepare for.
"I wanted all of our coaches to make sure that the weight room was a priority because I felt like the EKL is physically stronger than what we had been in," VanRheen said. "I also wanted us to show good sportsmanship and I wanted people in the best league in the state to see that we belong in the EKL."
The new league brought other new adjustments that each team had to make, such as having the right mindset and quickening the pace for boys soccer, according to senior Adam Grube.
"We would find ourselves behind and we'd have these lulls in games where we just didn't have our focus [against EKL opponents]," Grube said. "We'd lose three straight games to teams that we maybe shouldn't have lost to. So it's just keeping our focus, keeping our speed of play fast throughout the entire season and not just picking and choosing each game."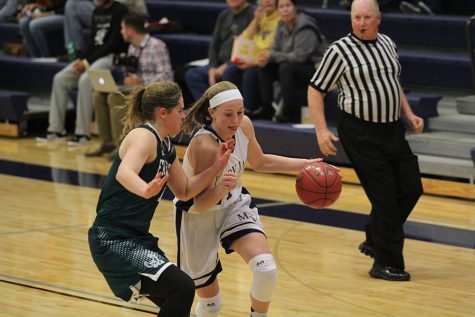 The enhanced level of competition intrigued senior swimmer Garrison Fangman and helped to prepare athletes to know what to expect in the postseason.
"[The competition] helped because we knew what was coming," Fangman said. "People will know other swimmers that are in their events and they'll try to get their times and they'll see what they're swimming at state to know how or what to swim at state. It just helps us with more information and more to prepare mentally for."
Grube agreed, but also believed that the new league will help previously inexperienced players to compete at the highest level.
"For the younger kids, they were able to realize how varsity plays and how the state tournament is going to be when they make it there," Grube said. "It's a lot more physical and it's a lot faster play. They are going to be able to develop quicker."
The new league switch also served as a wake up call, according to junior Evan Zars, who quickly realized that she has to work harder to compete in the EKL.
"We used to think we were one of the top teams but that was in a different league," Zars said. "Now we see how competitive other schools really are and where we really do stand. Now we know how hard we have to work and everyone is prepared to work a lot harder this next year than we did last year."
For VanRheen, the change was necessary for the school to take the next step and has helped to prepare all of the teams to be their best at the highest level of competition.
"In the end if you want to run with the big dogs then you better play with the big dogs," VanRheen said. "Being a member of the Eastern Kansas League, that's exactly what we're going for. We're putting ourselves in a position that playing in that league will prepare us for any team that we see in a postseason situation."
(Visited 58 times, 1 visits today)