Drive-ins movies could disappear
Drive-ins must change with the times or face extinction
In the late 1950s, the heyday of the drive-in movie theater, there were as many as 4,000 drive-ins in America. Now, there are only 357 permanent, functional and commercially-operated drive-ins left in the country. According to the United Drive-In Theatre Owners Association, there are seven left in the state of Kansas.
New challenges face these theaters, and it is not likely that many of them will survive. The drive-in movie is an American pastime that could soon be gone. Now, many movies are not being distributed on the 35mm film most drive-ins use. This type of film is expected to disappear within a few years. Many drive-ins are being forced to either change to digital projectors or go out of business.
Although there's an industry incentive program to help reimburse up to 80 percent of the cost of the conversion to digital, many theaters simply can't afford to make the switch, which can cost upwards of about $70,000.
Drive-in movies have become a bit more popular in recent years. While they may never reach the former glory that was prevalent in the height of their popularity, they've become a new place for people to hang out on a Friday or Saturday night.
Students here are beginning to enjoy drive-in theaters more and more.
"The outdoor setting made it more exciting," senior Gabby Fangman said.
Fangman enjoys drive-ins more than regular movie theaters.
"I prefer a drive-in because I can be in the comfort of my own car rather than a theater seat and it's just something different," Fangman said.
Fangman hopes that drive-ins will be able to stand the test of time.
"It would be sad if they closed," Fangman said. "I've been there lots of times with family and friends and it's such a great thing. It would be like the extinction of drive-ins."
There are a few drive-ins located nearby, including Boulevard Drive-In and I-70 Drive-In. Drive-ins have become a new, fun place to hang out, but that could be disappearing soon. People can try it out, though. Drive-ins are a fun way to go and see a movie with friends, and a great date idea, too. More money spent at drive-ins helps keep them alive.
(Visited 20 times, 1 visits today)
About the Contributor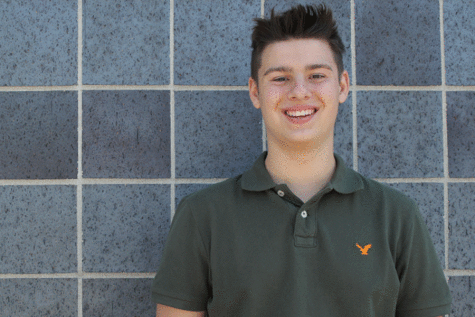 Nick Booth, JagWire copy editor
This is senior Nick Booth's third year on the JagWire staff. He is very excited to be copy editor and to continue his work with Mill Valley News, which includes his gaming blog Extra Lives. Outside of journalism, Nick is involved in band, debate, forensics, Science Olympiad, Quiz Bowl and drama and is co-captain of the robotics team. In his free time, Nick loves to read, watch a nice movie, play video games or listen to some music.