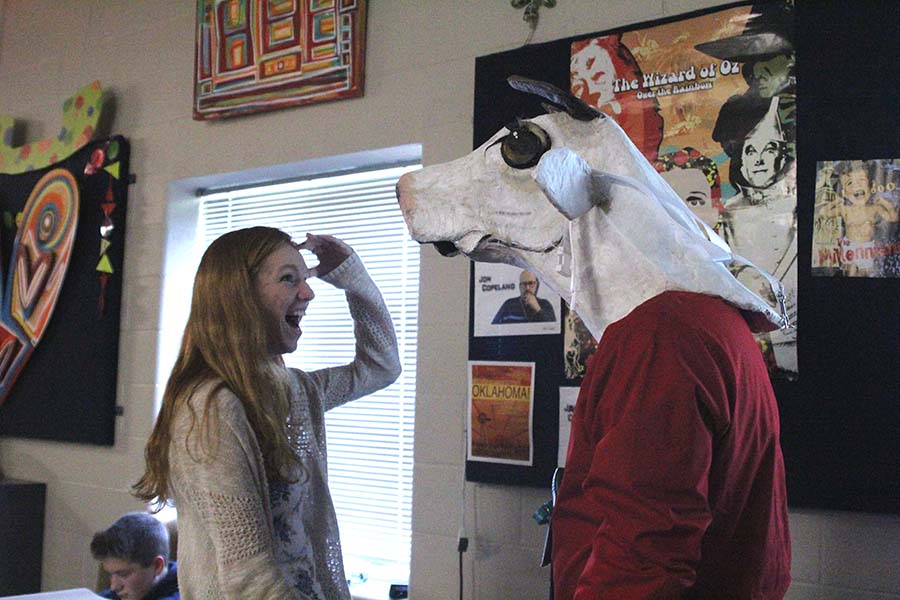 By Raya Lehan
Drama teacher Jon Copeland's room encourages creativity, creates home away from home for senior Diana Auckly
Auckly was introduced to Copeland's room during her freshman year and has felt connected to it ever since
April 26, 2017
Upon walking into drama teacher Jon Copeland's room, students are met with a dimly lit atmosphere comprised of poster-covered walls, abstract artwork and, most significantly, Copeland himself.
Senior Diana Auckly was first introduced to Copeland's room after joining the musical her freshman year and becoming a student in his drama class. Now, Auckly routinely visits the room during musical and play seasons for rehearsals or to simply visit Copeland.
"
Being in an environment that has a creative decor to it encourages students to kind of be more extroverted and be creative themselves."
— senior Diana Auckly
According to Auckly, her connection to the room is "natural, because of her love of theatre." Auckly also admires the room because of its eccentricity and atmosphere.
"I like how it's decorated to be very expressive of art and creativity and I think being in that environment encourages people to be creative," Auckly said. "Being in an environment that has a creative decor to it encourages students to kind of be more extroverted and be creative themselves."
Copeland said that the environment of his room differs from that of other classrooms due to the surplus of personal memorabilia from different Mill Valley productions.
"I do keep the lights dim because I like that ambiance; it seems more relaxed," Copeland said. "Some people come in and go 'wow, you have weird stuff in here,' because we have the telephones from [the 2013 production of] 'Bye Bye Birdie' and my wife's art and the sign from [the 2016 production of] 'Hello, Dolly!.' I just have random things around that are interesting."
Freshman Meghan Sherman, who spends time in Copeland's room during seminar and throughout Drama class, said that Copeland's classroom is an environment that is welcoming and comforting to students across the school, such as Auckly.
"In that room, everyone is friends when they're in there," Sherman said. "I feel like it's important for theatre kids especially to feel comfortable in that room since it's the drama room."
Furthermore, Auckly enjoys the classroom not only because of the atmosphere, but also because of the relationship she has acquired with Copeland over her years in high school.
"I feel like when I go in to talk to Copeland, I can talk to him about anything," Auckly said. "He's the kind of person that will just sit and listen and he'll give you advice on literally any topic."
Copeland said that students involved in the theatre department, such as Auckly, are especially attached to his room due to the amount of time they spend there.
"[Auckly] has done shows and has had class in here too," Copeland said. "There are some students that have been in shows since they were freshmen and now they're seniors and that means they've spent hundreds of hours [in here]."
Copeland's room is ultimately a place where students can be themselves without judgement, according to Auckly.
"It's a place you can come and be yourself; it's encouraged for you to be yourself," Auckly said. "I just love that you'll find a mixture of everyone in there. You got your athletes, your AP students and just everybody all coming together and none of those other things really matter because there, everyone fits in."
(Visited 148 times, 1 visits today)