Down to the Dollar
Finances are an important factor in planning for the future
April 18, 2019
Finally, you've picked what you want to do and you've made a plan for how to get there, but another vital part of planning for the future is cost.
Trade schools are often cheaper than an education at a university, which is makes that career path appealing to Coulson.
"Tuition is only $17,000 for nine months, so it's an affordable option," Coulson said. "I think there are just as many scholarships for trade school [as there is for college], and there are a ton of grants you can apply for from the government because there's a huge push for the trade school route."
For that reason, Hayes has seen an increase in the number of students entering college as opposed to a trade school or the military.
"I've definitely seen a trend of students over the years of students being a lot more conscious of the cost and the debt they're going to have to take," Hayes said. "A lot more students are talking about doing a trade and getting involved that way and with the military too."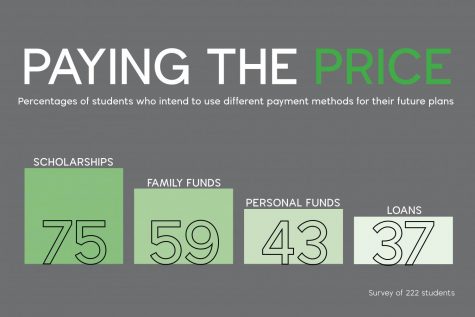 For students planning to attend college, however, the cost is exponentially higher and often have long-term effects. According to the National Center for Education Statistics, for the 2015-16 academic year, the average cost of public institutions was $16,757, the cost at private nonprofit institutions was $43,065 and the price of private for-profit institutions was $23,776; these averages are expected to continue rising.
Due to the cost differences, Hayes recommends considering cost as the number one factor when determining what schools to apply to.
"Ask yourself 'what experience am I going to gain?' Is it really going to matter paying more for the same degree, and to some people it does, but for others it's not worth it," Hayes said. "Different schools are known for different programs and some are more elite than other."
While loans can be an effective investment in education and the future, they should be used sparingly. According to Degree Query, the share of students leaving school with more than $50,000 of federal student debt has grown by 8.5 times since 1992.
Science teacher Chad Brown, who has paid off all loans excluding one active from the University of Missouri Kansas City, stresses the importance of paying as early and efficiently as possible.
"If I were to give advice, I would say, don't take out extra money just to spend, take out what you need and start paying as soon as possible," Brown said. "There is a certain amount of time where you can pay without any interest and you should take advantage of that. It's a great way to pay early, and you'll end up getting out of debt faster."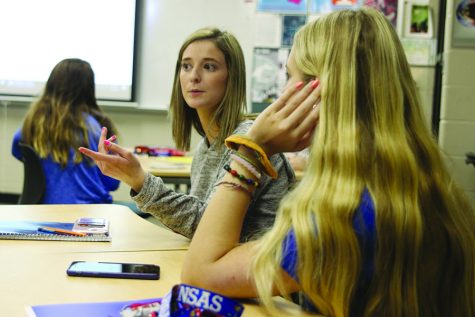 The school offers 19 AP or dual credit courses. According to Hayes, the average three-credit cost is $900. At Johnson County Community College, the average three-credit cost is approximately $279. Finally, AP exams cost $94, but students must score high enough to receive credits.
Hayes believes that the most helpful aspect from AP and dual enrollment classes are the reduced-price credit hours.
"It is cost savings — getting out of the way some of those entry level classes and not having to sit through them as a college freshman," Hayes said. "[Get] those basics out of the way, so you can you jump right into those things that you are interested in."
Fraka utilized these courses as well as online courses to minimize her college expenses. She will be entering her freshman year of college with 41 credit hours to help her ease the workload.
"A lot of colleges, speaking from my experiences as a KU student, have a sample degree pathway, so you can look at those [general education requirements] and knock out those specifically," Fraka said. "If you're trying to save money, the best scholarship is to just get in and out as fast as possible. So, if you can knock your four-year degree down to three, you're really saving yourself a lot of cash."
Additionally, Fraka believes students can decrease living costs to save money.
"I am going to live in a scholarship hall at KU, which means you're paying a lower rate because you're willing to do chores around the house," Fraka said. "That is saving me quite a bit of money instead of living in a regular residence hall."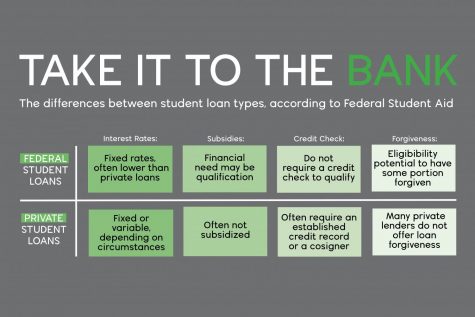 Butler also stresses the cost of applying itself, regardless of whether or not you attend, as that can limit your options too. Because of his own experiences with the financial toll of college, Butler wants to "make [students] aware of the immense financial liability college is, and wanted to prepare them to make an informed decision about how to find out-of-state schools that are financially feasible."
"I was unprepared for the cost associated with each college application, including the fees for sending all the various standardized tests, the CSS Profile and the applications themselves," Butler said. "The high cost forced me to decide between bearing the cost in favor of applying to more schools or saving my money and just applying to the schools I was without a doubt interested in."
Hobson has also utilized AP courses, but places a heavy emphasis on strategically applying for scholarships.
"Apply for a lot of scholarships, because it'll go a long way. There are some really great books, like Anthony O'Neal has a great book on avoiding debt," Hobson said. "Apply for different scholarships all the time and it's not the huge thousands-of-dollars scholarships that are gonna pay for it, but the little ones you can get easily. They go really far."
(Visited 1 times, 1 visits today)