District begins LOB election
Residents are voting to keep the local option budget at 33 percent or lower it to 31 percent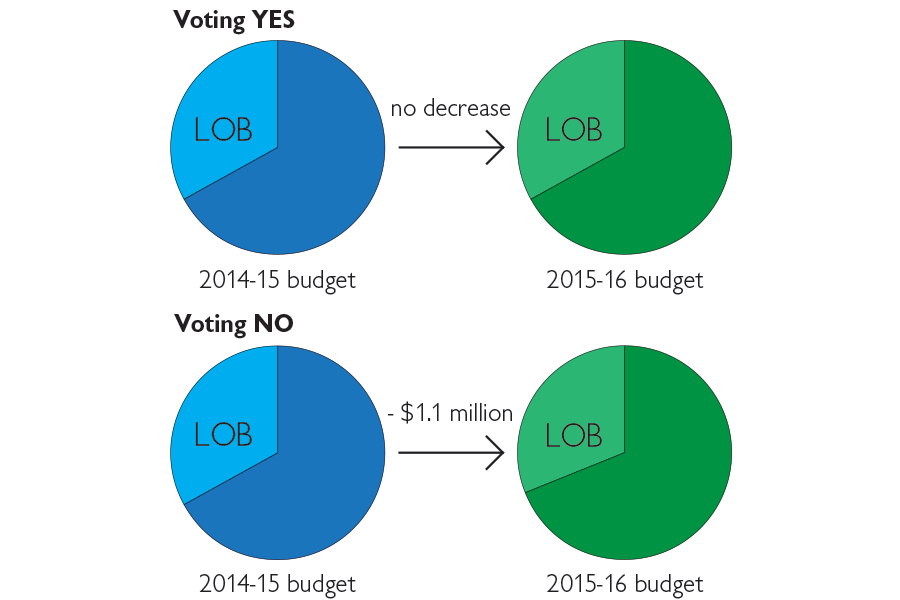 District residents are being asked to approve keeping the district's local option budget (LOB) at its current rate of 33 percent of the general budget for the 2015-16 budget year. Mail in ballots were mailed this week and must be returned by noon on Tuesday, Jan. 27.
The district funds the LOB locally and uses it for salaries, general classroom expenses and other day-to-day expenses. After the Kansas government equalized state aid for school districts in 2014, the Board of Education raised the district's LOB from 31 to 33 percent, increasing the state aid the district can now receive. The law equalizing aid now requires for voters to approve, via mail ballot election, keeping the LOB at its current rate of 33 percent. The law does not allow for the LOB to exceed 33 percent.
Keeping the LOB at 33 percent would not increase taxes or give the district more funding — it only keeps the current funding. According to director of administrative services and community relations Alvie Cater, the district has been stressing this to voters.
"The district is not asking for more," Cater said. "That's the message we've been trying to get to our stakeholders."
If the election does not pass, the LOB will be lowered to 31 percent. This means the district will lose more than $1.1 million in funds.
Social studies teacher Dustin Stinnett said such a loss would hurt both his classes and his students.
"Anything that is good for students I think an educator should be on board with," Stinnett said. "Anytime you're talking decreased funds … [that] would be detrimental to students.
After raising the LOB from 31 to 33 percent for the 2014-15 budget year, the district lowered property taxes by more than eight mills and lowered total collected taxes for this budget year by more than $1.3 million. (A mill is equal to $1 for every $1,000 of home value.) Despite this, Cater still foresees some opposition to the election.
"There are always taxpayers who want to see taxes decline," Cater said. "We just hope they see our [academic] track record."
When the ballot language was presented to the Board, Board members Tim Blankenship and Scott Hancock voted against it. Blankenship said he voted against the ballot because, although he believes it will help the district this year, its permanence may be negative.
"I don't think it is a good idea for any tax-related initiative to be made permanent," Blankenship said via email. "Voters should want more oversight than giving any government organization a permanent tax direction."
District resident Vince Corbitt plans to vote to keep the LOB at its current rate, however, because it keeps the current funding.
"It sounded like a reasonable thing," Corbitt said via phone. "It sounded like the right thing to do."
Cater hopes residents will vote to keep the LOB at its current rate, in order to help both district schools and the district itself.
"There is no better opportunity to support your public school system than through this election," Cater said. "This keeps the district in the best financial position going forward."
The district published information and a video about the election on its website.
(Visited 10 times, 1 visits today)