Dinner: Sutera's Italian Restaurant
Small area restaurant has good Italian food
Sutera's is an Italian restaurant best known for its specialty pizzas and pasta. It is located right here in Shawnee, situated off of Shawnee Mission Parkway. It is a fairly small, family owned-restaurant with around 20 tables and a small bar area.
I frequently visit Sutera's for the great food and service. My favorite meal is the Jumbo Stuffed Shells,  which are full of ricotta and mozzarella cheese and topped with delicious marinara sauce. The marinara has a perfect tang of basil without being too overpowering. There is also an option to add meat sauce for an extra dollar. However, this past time that I went, I ordered their pizza. I chose the small, which ended up being the perfect personal size of four small slices. While you can build your own pizza, I chose one of several Sutera's specialty pizzas, the Chicken Alfredo.
The Chicken Alfredo Pizza was loaded with chicken to the point where it was almost too much for me. Sutera's is also known for their use of thin crust, which is fine, but I personally prefer thick. I would have also liked for there to be more sauce on the pizza, but overall it was a fine meal.
Sutera's also offers a vegetarian pizza, as well as salads for healthier options.
To get the full experience, I ordered the strawberry cheesecake to top off my meal. The strawberry sauce was baked right into the actual cheesecake, and was delicious. You can also top it with ice cream for some added sugar.
For a hearty and authentic Italian meal, Sutera's is a great place to satisfy your hunger.
(Visited 51 times, 1 visits today)
About the Writer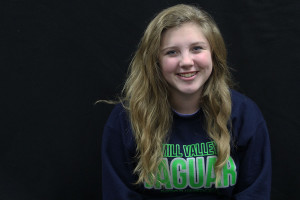 Ellen Merrill, JagWire reporter
Junior Ellen Merrill is a reporter and first year staff member for the Jagwire. She also plays volleyball, is involved in StuCo and Student Ambassadors and is a freshman mentor. In her free time she enjoys driving in her Jeep and spending time with family and friends, like  Annie Crouch. Laughing is her favorite thing to do. She lives by the words of Hannah Montana: "Life's what you make it so lets make it rock!"