Debate teams compete at state tournament
The debate team sent four students to the state tournament at Olathe Northwest High School on Jan. 15 and Jan. 16
Two debate teams competed at the state tournament on Friday, Jan. 15 and Saturday, Jan. 16. The team of seniors Jack and Nick Booth ended with 3 wins and 3 loses, and the team of senior Rohit Biswas and junior Tom McClain finished with 2 wins and 4 loses.
Although Biswas thought the tournament was difficult, he was pleased with the outcome as a whole.
"It is a lot harder than the meets we normally go to. I honestly think we did as well as we expected to do," Biswas said. "Individually, I feel like we were a bit less skilled overall than we should have been, mainly because we had winter break between the end of our season and state."
With such a large gap in time between tournaments, McClain also found it more difficult to practice and come prepared for the state meet.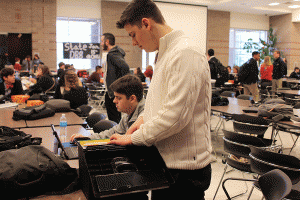 "The problem with state is it always happens like two months after our last tournament. I think with Rohit and I, we're just really out of practice with debate and we weren't as fluent in the topic as usual," McClain said. "Not only were we facing competition that we don't usually face, we were also really unprepared for it."
Biswas found the other teams were well-equipped for the tournament, and believed facing the opponents was challenging due to their experience. 
"Our biggest challenge was brushing up against teams that have gone to much harder tournaments, so they know how to speak," Biswas said. "It was harder to create arguments because everyone there was just top notch."
McClain attributed part of the challenges his team had at state to the interesting topic the team chose for the year.
"This year was a unique topic, it was about domestic surveillance," McClain said. "So much of what the government does surveillance-wise is very secretive. Sometimes it's hard to get a lot of detailed information and detailed research about a certain topic that the government doesn't want us to know about, so it was kind of unique from past years."
According to McClain, debate has been a beneficial experience for their friendship.
"There is definitely something unique about having that kind of confidence in another person. We rely on that other person to carry through our arguments," McClain said. "Even though we were friends before, there is an increased level of trust that comes with going to a high pressure debate meet."
Biswas also believes the two work well together when competing, and that the activity has grown their friendship.
"We work fairly well together because we both are strong talkers. We can defend our own arguments," Biswas said. "I'd say debate has had a pretty good impact on our friendship."
(Visited 36 times, 1 visits today)