Debate earns first Kansas Debate Coaches Invitational bid in school history
Freshman team placed first in the novice division setting school record at Washburn Rural Debate Invitational
Anna Owsley, Mill Valley News editor-in-chief
September 23, 2019
"
"This program is young. I don't even think this is a rebuilding year; there is nothing to rebuild. There is only building from the ground up, and I think that that's certainly possible. These students are more than capable.""
— debate coach Sohail Jouya
After three days of competition, the debate team brought home unprecedented success from season opener Washburn Rural Debate Invitational Friday, Sept. 20 through Sunday, Sept. 22. After four teams competed in the varsity division and two teams in the novice division, the team brought home multiple victories.
Finishing with an undefeated 5-0 record, freshmen Sarah Johnston and Isaac Steiner won first place in the novice division; in accordance with placing first, Johnston was also awarded the top third speaker in the novice division. Seniors Thomas and Travis Babcock made unprecedented steps toward the overall championship; as the only Mill Valley team to continue competition through Sunday, they fell to Blue Valley Southwest in octofinals with a 5-1 record in preliminary rounds. 
Drawing 61 high schools from across the Midwest region, including Kansas, Arkansas and Oklahoma, the national circuit tournament was an opportunity for teams to win bids to both the national Tournament of Champions (TOC) and the Kansas Debate Coaches Invitational (DCI). According to debate coach Sohail Jouya, the Washburn Rural Debate Invitational is "arguably the most prestigious tournament in the state of Kansas."
The Babcocks' performance earned them the first DCI bid in school history, and they were the first team to break into finals rounds at a TOC bid tournament. For senior Thomas Babcock, it was an incredible experience. 
"[Winning the first four rounds] felt a little bit surreal at first, because we didn't really have any expectations coming into the tournament," Babcock said. "After every single debate, we kept facing harder and harder opponents, and it felt good to not only debate them and be able to learn from them, from the arguments that they made and from the debates we had, but also to come out victorious at the end."
Great national circuit tournament hosted by @WaRuDebate!

1st place in the Novice division by Johnston & Steiner – Johnston was 3rd Speaker

Babcock & Babcock won big and enter the Sweet Sixteen and become the first team in #JagDB8 history to earn a DCI bid!#BadMoonRising pic.twitter.com/pLE57M21yJ

— Jag DB8 (@JagDB8) September 22, 2019
Johnston feels that her and Steiner's mindset contributed to their success in the novice division.
"We definitely didn't expect to go [5-0], but it was really exciting," Johnston said. "We started winning and … had a streak going, [so] we didn't want to break it. So we had to keep going and winning."
While the Babcocks and first place novice team performed well, the other eight teams did not exceed expectations. Along with being "the most unprepared … program going into the beginning tournament of the season" Jouya has ever coached, he describes how the absence of Verbatim and Dropbox throughout the first weeks of school due to MacBook downloading restrictions hindered the team's performance, especially for students unfamiliar with debate software. 
"The technological disadvantage that we had in comparison to our peers [was] absolutely tantamount to our level of preparation. Not having key and necessary components of software… really put a wrench in our ability to prepare not only in class, but also after class during practices," Jouya said. "Especially for younger students' familiarity with software. We have literally millions and millions of pieces of evidence; to be able to know how to navigate [through] efficiently and quickly and appropriately is a skill that [the novices] have had less than a week to genuinely hold." 
This problem, however, failed to act as a significant obstacle for the champion novices; Jouya attributes their overcoming success to their avid work ethic. 
"The freshman team of Sarah Johnson [and] Isaac Steiner have been incredibly diligent workers. They have not only been terrific in class, but also in after school practices. Those two in particular will find me during seminar; they will find me after school during practices" Jouya said. "I am very impressed by their skill set and their ability. Even in spite of the technological hurdles and obstacles that most programs never have to deal with, they were capable of winning every single round this past weekend."
Describing himself as "student centered as possible," Jouya is prepared to assist the team in achieving their goals.
"I think the students here want to be nationally competitive and travel the national circuit and be among the best in the country," Jouya said. "I feel like I have a skill set and a philosophy that is conducive to that desire." 
The team will compete next at Blue Valley Southwest — another prestigious TOC bid tournament — Friday, Sept. 27.
(Visited 444 times, 1 visits today)
About the Writer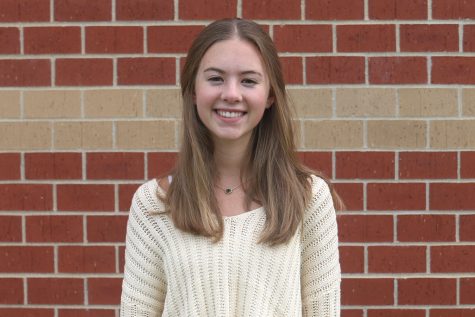 Anna Owsley, Mill Valley News editor-in-chief
This is senior Anna Owsley's third year on the JagWire staff. She is thrilled for her second year as Mill Valley News editor-in-chief and is undertaking the position of assistant editor for the newspaper. When Anna isn't busy with journalism duties, she can be found working, volunteering for NHS or multitasking homework and her current Netflix show. Additionally, she loves reading, watching movies, getting coffee with friends and traveling.