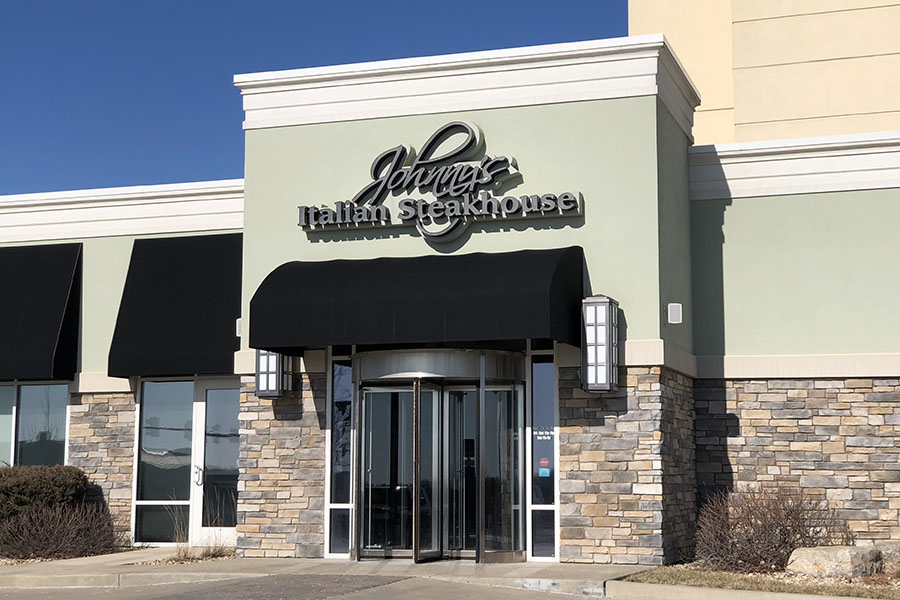 By Hannah Chern
Day 5: Lunch at Johnny's Italian Steakhouse
For the last day of KCRW on Sunday, Jan. 19, I headed to Johnny's Italian Steakhouse for a $15 lunch
For the last day of Kansas City Restaurant Week, my family and I have decided to dine at Johnny's Italian Steakhouse for lunch. This steakhouse adds an Italian twist to their menu by offering a variety of Italian delicacies along with their steaks. With their Italian twist, the restaurant aims to offer luxury and services inspired by the Rat Pack era.
Just like all of the other participating restaurants in Kansas City Restaurant Week, Johnny's Italian Steakhouse offers a lunch and dinner menu that offers a selection of different courses that come from their original menu. While the dinner menu serves three courses, the lunch menu only offers two courses—an appetizer and an entrée.
Click here to check out the Kansas City Restaurant Week menus at Johnny's Italian Steakhouse. 
Location: 12080 S Strang Line Rd., Olathe, KS 66062
First Course – Appetizer: Potato Soup
Rating: 4/5
For the first course, I decided to go with the potato soup. The soup came in a small bowl that was topped with an ample
about of crispy bacon bits and shredded cheddar cheese. After giving the soup a little stir to mix in the toppings, I gave the soup a taste. The warmth of the soup was not what I expected for a soup, but it was manageable. The soup was rich in flavor and the small potato cubes were the perfect softness to give each spoonful the perfect texture. The bacon bits and cheddar also added great flavor to the soup that complimented the rich, creamy flavor of the soup. The potato soup was a perfect way to start my lunch.
Our waitress also offered us a basket of warm bread that is meant to be dipped into olive oil and parmesan cheese. The bread was well seasoned and had a hint of spiciness that was different from any bread I have tasted. Dipping the bread into the parmesan cheese and olive oil mix was perfect.
Second Course – Entrée: Chicken Deburgo
Rating: 3/5
Finally, for the second course, I went with the chicken deburgo. Originally, I was going to order their Steak! Steak! Steak!—a 6-ounce top sirloin topped with a parmesan crust—but we were told that there was only one steak left. It was a little
concerning that a steakhouse was low on steak, so it led to the thought that with resources running low, every party was limited to one steak. So, while my dad ordered the steak, I went with the chicken deburgo. When it first came, my first
thought was that it looked like a country-fried steak with a generous amount of gravy. In reality, the dish offered two small pieces of fried chicken breast topped with their roasted garlic, oregano and basil cream sauce. On the side, there was a generous amount of mashed potatoes. When I took my first bite of the chicken, my first thought was the dryness of the chicken. While the sauce was able to add some moisture to the chicken, it was not enough to soak into the chicken. In addition, the sauce didn't have much flavor to it so every bite was very much plain and dry. Even though the chicken itself was not the best, the mashed potatoes had a garlic flavor and the potato skins that were mixed in provided some texture. 
Overall Experience
Overall rating: 3.5/5
Overall, my dining experiences at Johnny's Italian Steakhouse was decent. The bread and potato soup were a great way to start my lunch. While the chicken deburgo was not optimal, the mashed potatoes did add some quality to the dish. I was genuinely impressed with the service rather than the food. It was a little disappointing that there was an apparent shortage of steaks at a steakhouse, but our waitress was kind enough to buy us some dessert in order to fill the void. Even though lunch wasn't impressive, going to any steakhouse is meant for dinner rather than lunch. I give credit to Johnny's Italian Steakhouse for their good service and Rat Pack era ambiance, but food-wise, it was a little underwhelming.
(Visited 8 times, 1 visits today)