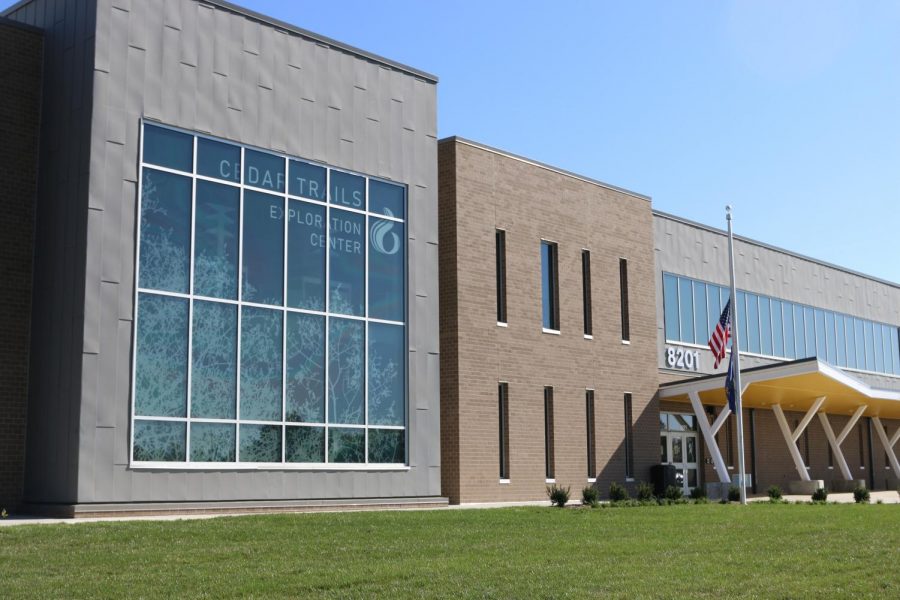 By Alayna Dill
CTEC provides students with invaluable STEM opportunities
Students have found that the new building is not only beneficial to their learning, but also to their futures
November 26, 2021
With the opening of the Cedar Trails Exploration Center at the start of the year students and teachers alike are able to further STEM education in the district. CTEC has provided students with new avenues for learning in STEM fields in an environment that welcomes curiosity and innovation. However, for some, the opportunities have provided a reminder of the ever-present gender gap seen in STEM departments. This gap comes with a variety of challenges, opportunities, and experiences. Despite this, CTEC has proven to be a place where students can learn and thrive, regardless of their gender, something students appreciate.
(Visited 408 times, 1 visits today)
New Building, New Opportunities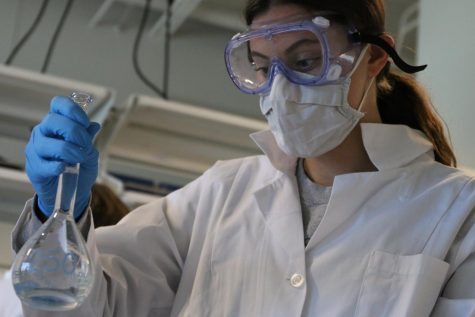 Open to the district's juniors and seniors, CTEC is located in Lenexa and offers classes and activities that neither high school building could offer on its own. CTEC Director Dr. Cindy Swartz believes the building provides students with more opportunities that will help them in their futures. Swartz recommends CTEC to students who are looking into STEM careers.
"It's going to be very rewarding to come out to a facility that has a program and has classes that are definitely aligned to [students'] future career interests," Swartz said. "We're trying to make sure that we have local business and industry partnerships with all of our classes, so the students will be a little bit more connected to business and industry by coming out CTEC."
Senior Maddie Vosburg, who is enrolled in Digital Electronics, has found that CTEC provides students with the tools to decide what they want to do later in life.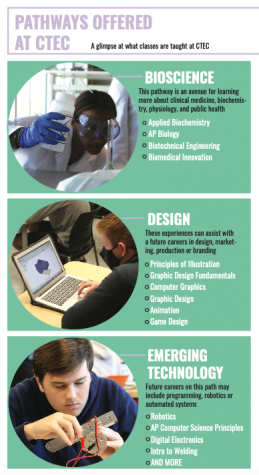 "For me specifically, I want to go into a technology career path, and so I think it opens up a lot of opportunities and learning experiences from that," Vosburg said. "For me specifically, I was debating what I want to do in college, so these classes allowed me to kind of explore more of the [electrical] side of engineering or software engineering that I might want to go into in college. That has pointed me to the direction I want to go in the future."
For science teacher Neil McLeod, who teaches robotics at CTEC, the building provides many new resources, such as an open area in the center of the building that the team uses to hold meetings and practice driving their robots, that have helped the robotics team.
"Before, for the robotics team, we were based out of Mill Valley High School, [in] just one of the classrooms, and we didn't have a designated computer lab for programmers to work," McLeod said. "Between the computer lab and the fabrication lab and the atrium practice area, it's quite a step up from what we had before," McLeod said.
For junior Connor Bauer, half of his schedule consists of CTEC classes. Bauer is enrolled in Computer Science, Emergent Technologies, Robotics and STEM, and has enjoyed his experience in the new building.
"[CTEC has] been great," Bauer said. "The teachers are cool and all the equipment's awesome. It provides a way for us to get hands-on experience and use real life equipment and tools to solve real life problems."
According to senior Julianne Long, who takes Emerging Technologies and Graphic Design at CTEC, the building provides a nice environment where students easily get along.
"There's a much better environment there," Long said. "There's a lot of the high school pressure cooker vibe at Mill Valley, and at CTEC it's very much if you like learning and art and engineering and science, come here, and you'll fit right in."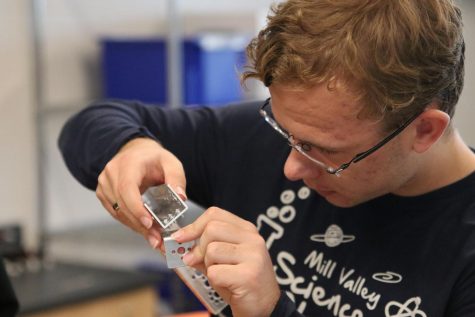 Similarly, junior Maddie Hanna, who is enrolled in Principles of Illustration and Biotechnical Engineering, has found that the building has a friendly environment.
"It's such a good place to just figure out if that's really what you want to do and the teachers are there to help you. Everyone knows each other so we're here to help each other out and [in] allthe different classes you can help each other, so it's really nice," Hanna said.
(Visited 1 times, 1 visits today)
Increasing Equity
Though CTEC has provided students with new STEM opportunities, some students have found that it has shed light on the disproportionate amount of males in STEM.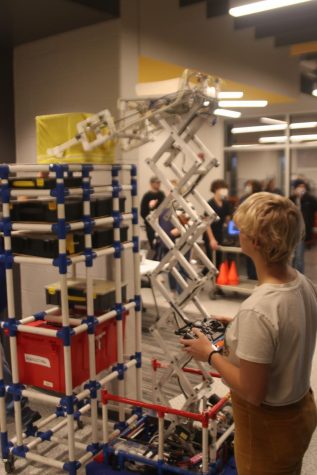 Many students attending CTEC have experienced this uneven ratio in their classes. Vosburg, who works as an intern at Cerner during one of her blocks, finds that more students in her classes tend to be male.
"There's definitely a lot more males than females. In my Digital Electronics class, I want to say there's maybe four or five females and I think it's a class of 20, so it's definitely male-dominated," Vosburg said. "And [at Cerner] I am the only female on my team, probably of ten to twelve men. Within the past two years, there's probably one or two girls that I've worked with at Cerner, so I think this career field is definitely male-dominated."
According to McLeod, his robotics classes are comprised of entirely male students, and the robotics team is about 75-80% male. However, in the other STEM classes he teaches, the gender ratio has been "pretty close to 50/50 across the years."
Although some classes have a more even gender distribution, Swartz explains that the district has been working on advertising strategies aiming at increasing gender equity in STEM classes even before the existence of CTEC.
"Something in Career and Tech Ed that we've been talking about quite a bit is equity in CTE and STEM, and just making and thinking about how we advertise some of our pathways," Swartz said. "Let's say I wanted to advertise construction. Maybe we start thinkingabout adding in more images of females in construction. Kansas has talked about equity for quite some time, and I think a lot of it has to do with our federal workforce and innovation opportunities because they want to make sure that there's equity in employment. If you don't see someone that looks like you in that career, then how do you see yourself doing it?"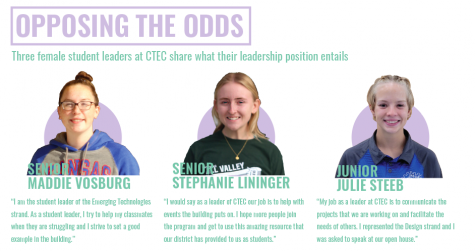 Nationwide, women are nearly half of the U.S. workforce but make up only  27% of STEM workers. As the only female on her team at Cerner, Vosburg has experienced both the positive and negative effects of this gap personally.
"I don't want to sound dumb, especially working on a male-dominant team," Vosburg said. "I don't want [male co-workers] to judge me because I'm a girl, or them see me as inferior to them. It definitely makes me work harderand take pride in myself that I can work with men like this or maybe even better than them."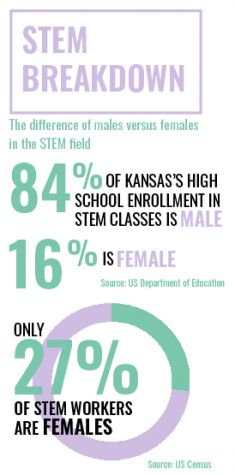 Although Long believes she feels similar to how boys in STEM do about the field, she also recognizes that there are some positive elements to being a girl in STEM.
"[I feel] no different than I think a boy in STEM would feel honestly,'' Long said. "I want to go into engineering and I'm considering the University of Nebraska's engineering department. While there are definitely going to be less girls in the engineering department, just because it isn't encouraged in girls as much as boys, you can actually get scholarships simply for being a girl that wants to do STEM. They want girls in STEM, it makes them look better. So I've honestly been a little biased for being a girl in STEM."
(Visited 1 times, 1 visits today)