Cross country shows depth at Cat Classic Invitational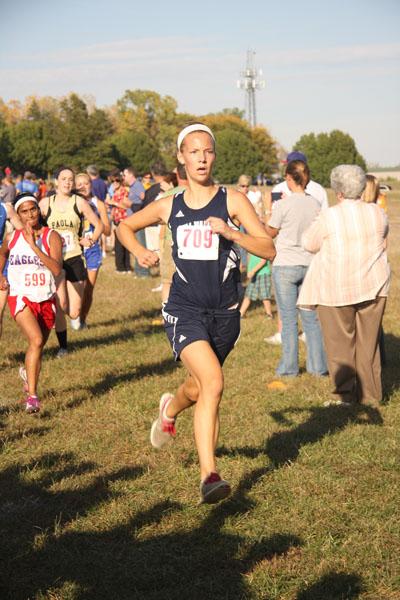 Eric Howes, reporter
October 12, 2011
The cross country team ran their sixth meet of the year on Thursday, Oct. 6. Competing at Shawnee Mission Park on their home course, the team ran on well-known territory.
The girls varsity team ran in their fifth 4K of the year, placing ninth out of 14 teams. The team was led by sophomore Bailey Parke who ran a 17:03 and placed 18th out of 91 runners. Following Parke was senior Kati Strickland running a 17:18 and placing 25th.
The varsity boys defined the word depth in their fifth 5K of the year. With all seven runners finishing within 35 seconds of one another the team ran as a pack. Leading the team was senior Connor Mehalovich who placed 11th with a 17:10. The next five runners who followed Mehalovich earned medalist honors as well. Placing 13th was junior Chris Gillespie who ran a 17:15 and was followed by sophomore Landon Scott who ran a 17:20 and placed 15th. Finishing closely behind was sophomore Bobby Hellon who ran a 17:39 and placed 25th. Following Hellon was junior Andrew Eigsti who was two seconds behind with a 17:41. Overall, the team placed second out of 14 teams.
The JV boys got the job done as they finished first for the fifth time this season. The first eight runners to cross the finish line from the team all medaled. Sophomore CJ Meeks showed the teams' strength finishing first in the JV race with an 18:02. Closely following Meeks with a time of 18:27 was junior John Poorman who placed third, and freshman Callahan Eckhardt who placed fourth. In seventh place was sophomore Jason Biesma who ran an 18:43. Sophomore Daniel Ward ran his best race this year with an 18:59, and was closely followed by sophomore Connor Armstrong who placed 15th with a 19:04.
"We had a real stellar performance," Armstrong said. "It was a grade A performance."
The cross country team next competes in Turner for the Kaw Valley League meet. The meet is on Thursday, Oct. 13 at 4:15 p.m.
(Visited 3 times, 1 visits today)