Cross country places second and third at state meet
Juniors Tyler Coad and Britton Nelson help boys and girls team receive trophies at state meet
The boys and girls cross country team placed second and third at state on Saturday, Oct. 29 at Rim Rock farm.
The boys placed second only behind St. Thomas Aquinas, who had five top twenty finishers. The girls team took third behind Aquinas and St. James.
The boys team had two top twenty finishers: junior Tyler Coad took twelfth with the time of 16:42.5 and sophomore Greg Haynes took seventeenth with the time of 16:57.9. On the girls side, junior Britton Nelson finished third overall, ending the season with a time of 19:51.0.
At the beginning of the season, the opportunity for success was uncertain due to low turnout, but head coach Mark Chipman knew they would exceed expectations.
"We did super, girls in particular; we weren't really sure who we had coming back this year. We have five freshman but we improved throughout the year," Chipman said.
Chipman was also very pleased with the turnout at state.
"They were just super, it was definitely our goal to place to place second or third and we did just that," Chipman said.
During the boys race, Coad acknowledged the difficulty of the Rim Rock course.
"I feel like I did pretty well, I've ran it before multiple times and I've gotten used to [the course]. I know when to attack and when not to attack," Coad said.
The boys team had shown throughout the season just how strong their team was.
"We did outstanding; no one thought that we would be as good as we were," Coad said. "Just having us do so well, I'm really proud of us."
With five freshmen running at the meet, the youth of the team had really benefitted the girls team. Junior Bella Hadden knew that this season was a big confidence boost for the freshmen on the team.
"As a team, we gained a lot more confidence. At the start, our freshmen didn't really know how to race a 5K, understandably. They've learned so much throughout this season and did so well. It was really [the freshmen] that helped contribute is to this third place finish," Hadden said.
Although many of the younger runners may not recognize the impact of taking third at state, Hadden knows they will benefit from it throughout their high school careers.
"I feel like they might not understand right now how big of a deal this is to take third at state as a freshman," Hadden said. "As they get older and going through high school they're going to realize just how big it is. I think it's going to give them a lot of confidence going into other sports and anything else in high school."
Being able to receive a medal and place in the top five had proven to be an exciting moment for Nelson.
"I was really happy, I knew I wanted to get out there with [Aquinas runners] and to do that, I was really proud of myself," Nelson said.
Nelson had grown a lot through the season, improving with every meet.
"I think I improved quite a bit, I gained a lot more confidence as the season went on. I started winning races and that does a lot mentally," Nelson said. "In running it's a lot about mental toughness and I think I am pretty strong in that area."
There was a noticeable improvement from the very first meet to this state meet in many of the girl runners.
"[The team] improved a lot. They were beginning to understand it more and become more confident in themselves and their racing ability," Nelson said. "They knew how to move and race better. How to position themselves and get a good finish."
(Visited 54 times, 1 visits today)
About the Writer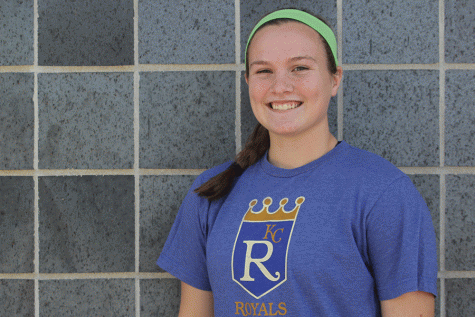 Claire Kaifes, JAG reporter
Sophomore Claire Kaifes is in her first year on the JAG yearbook staff as a reporter. She plays basketball for the school and also plays for outside of school. During her free time Claire enjoys spending time with her family and friends, and also attending many Mill Valley sporting events.