COVID-19 impacts local economy
Faced with health and economic repercussions of the virus outbreak, businesses are adapting to industry changes
Anna Owsley, Mill Valley News editor-in-chief
April 16, 2020
Hundreds of businesses, facilities and events across the Kansas City area closed or canceled throughout March as Kansas public health officials worked around the clock to prevent the spread of COVID-19. Gov. Laura Kelly's stay-at-home order Monday, March 30 made it official, leading to the closure of all non-essential businesses; the order is currently set to end Sunday, May 3 at the earliest. Amidst the Kansas and Missouri stay-at-home orders, 68,000 people across the two states have filed for unemployment.
Whether deemed essential or not, businesses and employees across the board are feeling the pressure of decreased demand amongst consumers. Hair salons, music stores, movie theaters and other non-essentials have been forced to close their doors, and 'essential' businesses are scrambling to accommodate customers under the new circumstances.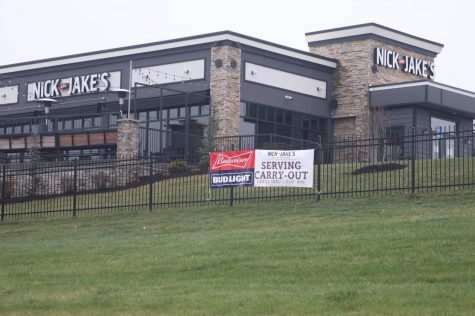 While local dry cleaning business Blue Sky Cleaners has been able to remain open, the store saw about a 90% decline in business within a week of the stay-at-home order and had to let two employees go. Store owner John Chalfant describes the immediate effect of the order as "devastating" but believes staying open is still the best option. 
"Right now, our sales are not even covering our labor costs – let alone other costs like rent and utilities," Chalfant said. "Staying open is the right thing to do for our customers and our employees, and it will hopefully serve us well in the long term."
Chalfant is hopeful that despite initial losses, taking advantage of the situation will allow for long-term growth for his business.
"This has given us time to do some things we've wanted to do that should position us well for the future," Chalfant said. "We are also moving more of our customers to pickup and delivery, which is in keeping with where a lot of businesses are going." 
For many non-essential businesses, the future looks more bleak. Local beauty salon Hello Beautiful closed its doors prior to the stay-at-home order "out of concern for the health of [their] staff and clients," according to owner Anh Nguyen who worries for the future of her store.
"My fear of going out of business increases the longer we are closed," Nguyen said. "I can't even begin to predict the long-term impact as I'm trying to find ways to keep our staff afloat with some means of income via loans and unemployment benefits."
"
My fear of going out of business increases the longer we are closed.
— Anh Nguyen, owner of Hello Beautiful
In order to sustain her business, Nguyen has applied for lending programs such as the Paycheck Protection Program (PPP), when the loans were first rolled out and again Tuesday, April 15, and the Small Business Administration's (SBA) economic injury disaster loans (EIDL). She has yet to receive a response. These lending programs "have been flooded with applications and are understandably slow to respond," according to Nguyen.
Chalfant, who has also applied for the PPP and EIDL programs, believes that these programs will be a useful crutch for businesses to sustain themselves on. 
"Without that assistance, it would be an extremely difficult challenge to stay afloat if this pandemic lasts into the summer months … having access to the loans gives all impacted businesses hope and a reason to remain open," Chalfant said. "If and when we receive our loans, they will be extremely helpful to our specific business." 
Gretchen Aerni, the owner of printing business Spot On Apparel, is another small business owner who had to cease business due to the stay-at-home order. Because a large portion of her business is with schools, the closure of schools has left many of her invoices unpaid since they no longer have access to the district payment options.
Aerni notes how small business owners like herself are having to be flexible amidst the stay-at-home order.
"Many small businesses are re-evaluating, finding other sources of income, getting creative or just holding out until the order is lifted," Aerni said.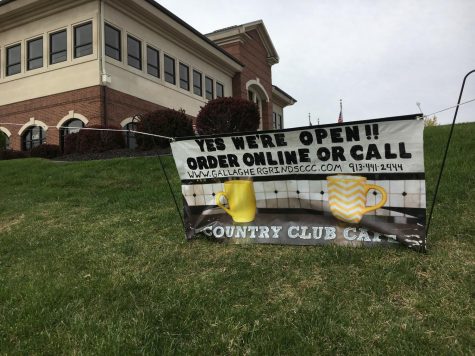 The food industry is also facing shaky times. Sit-down restaurants such as Sombrero's Mexican Cantina, Country Club Cafe and Pizza West have had to adapt, switching to pickup service and in some cases limiting their menu. This hasn't been feasible for everyone, though; places like Nick and Jake's and First Watch have temporarily closed their Shawnee locations. 
While the Monticello Starbucks has temporarily closed its doors due to the outbreak, local coffee shop Country Club Cafe is continuing business through online and call-in orders with curbside pickup, running at minimum staff and shortened hours, and offering specials. According to store manager Kassidy Gallagher, the community has gone out of their way to support the cafe, allowing them to stay open amidst the COVID-19 outbreak thus far.
Despite these measures and community support, the store has suffered from significantly lower business than usual. This has left a gaping financial hole, and Gallagher worries that the store may not be able to jump back to where their finances were prior to the stay-at-home order. The cafe has applied for a grant to help support its finances but has yet to receive a response.
"Small businesses have a harder time coming back from unexpected situations," Gallagher said. "There is always a fear of going out of business. We are in uncertain times. We have to hope for the best and prepare for the worst."
(Visited 431 times, 1 visits today)