Course selection underway
Students have begun choosing their courses for the 2014-2015 school year
Counselors met with freshmen, sophomores and juniors this week to discuss course selection for next year. During these meetings, counselors gave instructions on filling out course selection sheets and outlined the course guide, which are both available on the counseling Web page. In addition, options such as Advanced Placement classes and College Now credits were presented to students. Course selection sheets are due to the counseling office on Wednesday, Feb. 19.
"[While selecting their courses], we want students to be looking out for themselves," counselor Randy Burwell said. "Take classes that you enjoy, but also classes that are going to give you an advantage for what you're planning to do after high school. Make sure you're maximizing your opportunities while you're at Mill Valley. Take classes that are going to shed a good light on you when colleges are looking at you."
Students interested in enrolling in AP courses should specify the class on their course selection guides. According to counselor Erin Hayes, a list of students who are selecting AP classes will be given to the teachers of those classes. Those teachers will later conduct meetings with those students to further discuss and outline the AP class. At these meetings, teachers will cover topics such as the work load of AP classes and what will be taught in the class.
Hayes says that students who are unsure whether or not they should take an AP course should speak with their teachers.
"If you're having questions about how to fill out the form or what credits you need, come see us. If you're having questions about what class to take because you don't know, I really encourage you to go to your teacher first," Hayes said. "Teachers are probably the first resource when asking which classes to take. Even peers can be a good resource for asking what classes were like. If you're trying to figure out how to balance how many AP classes you want to take, talk to students who have taken those classes. We're really more the expert at this point on what credits you need."
Sophomore Nadia Suhail is planning on taking AP U.S. History next year.
"I heard Mr. Wieland was a really good teacher and I've heard from students that while it's a difficult course, it pays off and you learn a lot," Suhail said. "It's good to challenge yourself."
In addition to AP courses, students can also take classes for college credit through Johnson County Community College's College Now program. These classes are taken at Mill Valley and have the same curriculum, but provide students with the option of obtaining college credit. Hayes recommends that students interested in taking classes for college credit research the college they are interested in going to so they can be sure that the credit they earn through JCCC will transfer to that college.
If any questions arise concerning how to fill out course selection sheets, students are advised to see their counselor. Freshmen should see counselor Polly Vader. All other students with last names beginning with A-G should see counselor Trish Chandler, H-N should see counselor Erin Hayes and O-Z should see counselor Randy Burwell.
"I think the biggest thing is to really be thoughtful about the classes you're writing down to take. Make sure they're classes that you're truly interested in and willing to complete just because space is limited," Hayes said. "The reason you're giving us all these course selection forms is because that's how we're determining how many sections of a class we should offer in order to get as many kids in that class that want to take it … There aren't really a lot of places to go when you try to change your schedule in the fall or at semester."
Students have already begun choosing courses they are interested in taking next year. Sophomore Siera Thompson is hoping to be enrolled in Advanced Drama.
"I'm really excited to take the class because I love acting and I'm looking forward to having fun in the class," Thompson said. "Mr. Copeland is a great teacher and really fun to work with."
(Visited 83 times, 1 visits today)
About the Contributor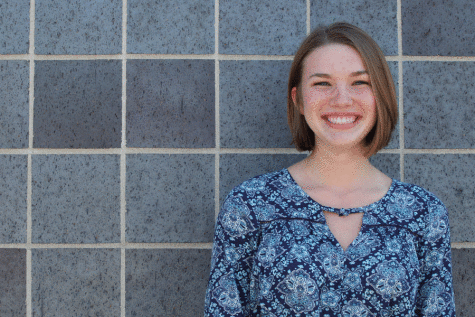 Sarah Myers, JagWire editor-in-chief
This is senior Sarah Myers' third year on staff. She is excited to be a JagWire editor-in-chief and make the paper the best it can be. While not in the journalism room, Myers can most often be found in the theater, performing in a musical or play. She is also involved in NHS, SLT and Student Ambassadors. Myers loves journalism, theater, any class of art teacher Jerry Howard's, history, life science, art, music, people and God. In her free time,...