Convenient drive-thru coffee shops have increase in popularity
Drive-thru coffee shops provide an easy way to still get your favorite drink when life gets a little busy.
Abby Riggs, JagWire reporter/photographer
March 22, 2023
Students today are constantly busy; balancing school, work, and other extracurricular activities. This strenuous schedule that many students deal with can make it hard to find time to enjoy simple pleasures like a quick coffee break. Drive-thru coffee shops provide a quick and easy solution to balancing a busy schedule and have become increasingly popular amongst high school students. 
Sophomore Jada Winfrey is a frequent visitor of Dutch Bros Coffee, a drive-thru coffee shop located off of Shawnee Mission Parkway. Dutch Bros is a franchise found across the country that offers a wide array of beverages and pastries including coffees, smoothies, energy drinks, lemonades, milkshakes, and much more.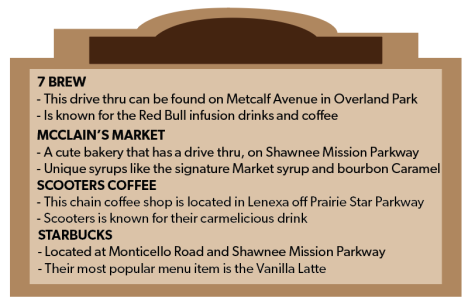 "Dutch Bros is one of my favorite places to get coffee. The coffee is really good and there is a big variety of drinks," Winfrey said. "I really like their holiday drinks, one of my favorite things to get is the Sugar N Spice Oak Milk Latte. The workers are also always nice which just makes the experience good." 
Winfrey enjoys the convenience that Dutch Bros and other drive-thru coffee shops like it provide. 
"I really like how [Dutch Bros] is fast and easy," Winfrey said. "You don't have to get out of your car so I can go there still wearing pajamas and it has pretty long hours so I can go early in the morning or late at night." 
Sophomore Seville Skinner is a coffee and tea fanatic who is rarely seen without a drink in hand. Like Winfrey, Skinner is a frequent visitor of Dutch Bros Coffee. 
"I love having something other than water with me all the time," Skinner said. "My go to order is the aftershock red bull drink [from Dutch Bros]." 
Skinner finds drive-through coffee shops to be a refreshing way to try new places while trying to balance a busy schedule. 
"I love trying new drinks and new places but sometimes it's hard to have time to go to cute little coffee shops," Skinner said. "That's why drive-through coffee shops are nice because it's an opportunity to change things up instead of always going to somewhere like Starbucks. They're really quick so you can try something new without taking too much time out of your day." 
(Visited 58 times, 1 visits today)