Computer Integrated Manufacturing students enter engineering competition
Battle of the Brains competition asked students to design a Science City exhibit
After Burns & McDonnell released the results for its Battle of the Brains competition on Friday, Nov. 6, the entry from Mill Valley was not listed as one of the 20 finalists.
Engineering teacher Gayle Kebodeaux's Silver Three Computer Integrated Manufacturing class submitted its entry before the Thursday, Oct. 22 deadline, after having worked on the project since September.
The competition asks groups of Kansas and Missouri students to design an exhibit for Science City, with the aim of encouraging science, technology, engineering and math education. The winning group will see its vision realized as an actual exhibit, as well as earn a $50,000 grant for the school's engineering program.
Burns & McDonnell will announce the winner on Wednesday, Nov. 18. This is the third time Burns & McDonnell has hosted the competition, and it does so once every two years.
Kebodeaux's students submitted an exhibit based on teaching visitors about physics, called "MetroPhysics." The exhibit is separated into three sections: Circuit City, Newtonia and Wave Town. Circuit City is a giant walk-in computer tower, with parts devoted both to the inner workings of a computer and how electric circuits work. Newtonia is an outdoor exhibit designed to teach visitors about basic physics, and includes a giant Newton's cradle and an apple tree that has bits of knowledge on the apples. Wave Town is intended to demonstrate the properties of waves, and includes demonstrations of light and sound waves.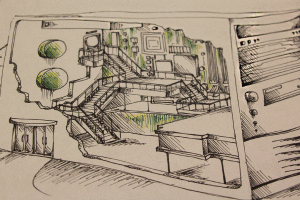 According to Kebodeaux, the students were originally working in several separate groups, but eventually decided to all work on a physics-based project together. Later, they decided to divide the exhibit into the three areas.
"So, [the students] split up into groups and did more research on their individualized topics, and eventually they realized that everything pretty much fell under physics, and so basically it was just continuing research," Kebodeaux said. "Eventually they decided it should be three different sections, and that's where they came up with Newtonia, Circuit City and Wave Town."
Senior Charlie Hamilton was part of the original group that worked on the physics exhibit before the rest of the class joined, which also included seniors Taylor Bellmyer, Blake Brady and Trevor Molz.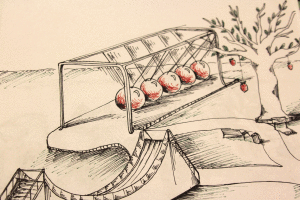 "Well, it turns out we started to do the physics one, and [other groups] kept being constrained by their overarching goal being too narrow-minded," Hamilton said. "We could go anywhere with ours, since it's such a big topic. So, everybody just kind of coalesced into our group, and joined up with us and started working with us to make this one idea into a reality."
The students had to submit multiple components of the entry, including writing pieces on creativity and inspiration, the exhibit itself and safety, each with an 800-word maximum. They also had to write about constructability with a 400-word maximum, student involvement with a 300-word maximum and how the exhibit would be promoted through social media with a 500-word maximum. Additionally, they submitted a visual representation of the exhibit, drawings by junior Jason Chen and 3-D models created with computer software.
Junior Ben Stadler, who worked primarily on Wave Town, believes the project has helped the Computer Integrated Manufacturing students become better engineers.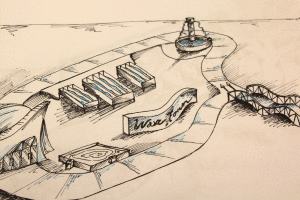 "[The competition] shows you how the engineering process applies today in projects, and I really think it can help people learn more about how you use STEM," Stadler said. "I think it helped us branch out our creativity a little more and think outside the box, and start figuring out how to follow the brainstorming, the testing and the prototyping. And going all through the engineering cycle to see how everything actually works, and is put together and designed."
Kebodeaux also believes that the competition is beneficial to future engineers and STEM education as a whole.
"I think we're extremely lucky to live in the Kansas City Metro area, where such a large engineering firm would put this much money into local STEM education," Kebodeaux said. "There's a lack of engineers out there, and it's really important that we … let students know that they really might be interested in that. That's probably one of the biggest pluses, that students who had no idea what an engineer is, they're getting to go through some of the process and think about it in a very fun way."
(Visited 85 times, 1 visits today)