Communication arts teacher Justin Bogart is a recognizable face and voice around school
Bogart's involvement in various school activities and leadership roles around the school inspires recognition
February 11, 2015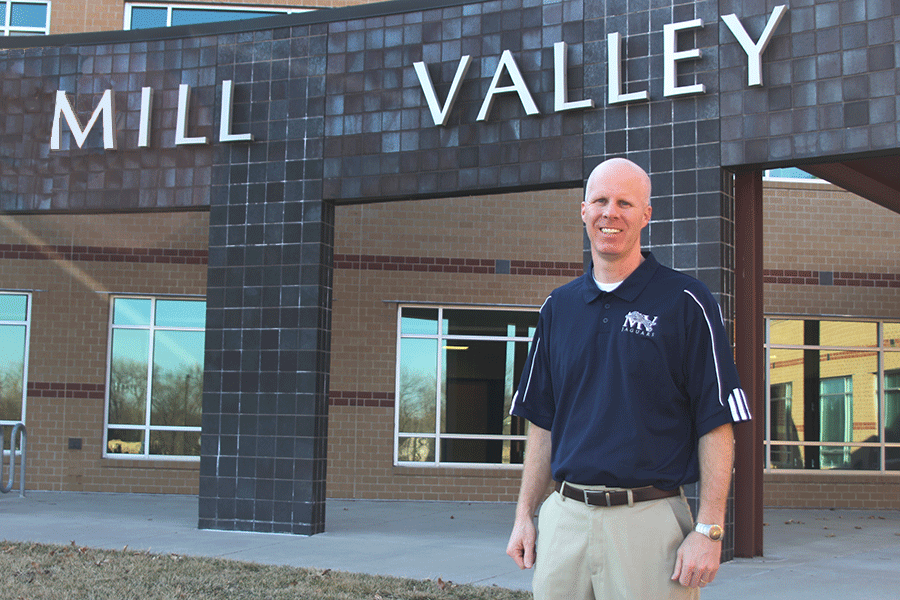 Every morning, students and staff hear the words "Good morning, Mill Valley" over the intercom. For some, there is no thought of who the man behind this voice is. But for others, this man, communication arts teacher Justin Bogart, is a teacher, coach or colleague; and sometimes, Bogart is all three.
Bogart began his teaching career at De Soto High School, and after five years, transferred to Mill Valley in its opening year. In Bogart's time at the school, he has served as the boys golf coach from 2000-06, StuCo sponsor from 2000-08 and boys basketball head coach from 2000-14. The people surrounding him each day throughout the school are the reason he continues to teach here each year.
"I can't think of a better place to teach," Bogart said. "We're not perfect, but we have such great kids, and the teachers here are special. [This job] provides constant rewards."
"
I can't think of a better place to teach. We're not perfect, but we have such great kids, and the teachers here are special."
— Communication arts teacher Justin Bogart
While he didn't realize it at first, after one semester of college, Bogart knew that teaching was what he had always wanted to do.
"I always think that, in the back of my head, [I knew] that this is what I would do," Bogart said. "I pretended to be an engineering major at [the University of Kansas] for a semester, but I knew that wasn't really what I was going to major in, and [teaching] was just natural. I'm a third-generation teacher, so I grew up around it and I liked it."
After 15 years, Bogart's voice is often recognized by students and staff, as he is in charge of the daily morning announcements. He is also the football announcer, and has not missed a home game in all 15 years. Both of these positions have "grown out of a series of unrelated events," and Bogart has found enjoyment in each of these endeavors.
"I got so lucky to be here at this school and I guess people have trusted me to do things like to announce the football games or to make the [morning] announcements," Bogart said. "I think they see that I take it seriously and have some fun while I do it. It's very important that we get it right, I just want to set a good example for others."
Social studies teacher Jack Johnson had the opportunity to have Bogart as his English 12 teacher from 2005-06, have him as a basketball coach from 2002-06, work for him as an assistant basketball coach from 2010-14 and work with him since 2011. These circumstances have caused the two to form a special bond.
"We created a really good relationship when I started coaching and when I was playing [for Bogart] … After I got done playing basketball my senior year [of college], he offered me to coach with him," Johnson said. "After I started coaching with him, I got a job here two doors down. Then we were seminar partners and we spent basically every day together for the first two years. I'd probably call him my best friend now."
Bogart teaches AP Literature and Composition, English 10 and Sports Literature, and while he wants the students to learn the material he teaches, he also wants them to grow as individuals.
"I teach a class that helps explain how people define their worlds and define their lives," Bogart said. "I hope they'll take those universal lessons from my class and be able to use those to help them sort out the scramble that is their life. I think most of the kids are probably in very favorable circumstances. I think they need to appreciate that and be more empathetic towards each other, and I hope they figure that out through my class."
On the other hand, Bogart also said he has learned a lot from his students and former basketball players.
"From coaching, [I've learned to] be yourself. I always felt that the coaching part of me needed to be different, but when I became more comfortable as a coach, we were more successful," Bogart said. "That was kind of a hard lesson to learn … Just being myself in whatever moment is the most important lesson I've learned, especially from the students."
As they are now colleagues, Johnson looks up to and appreciates Bogart in and out of the classroom.
"[Bogart is] very professional and very caring," Johnson said. "[He is] someone who's always looking to get better as a person, someone who's always willing to help out, he's helped me out a lot … He just goes above and beyond what he's supposed to do, and it's evident in his teaching, and it was in his coaching … We like to think of him as Mr. Mill Valley in the hallways here."
While sometimes people recognize Bogart as Mr. Mill Valley, or the face of Mill Valley, he wants other staff members to have the same acknowledgement, but still appreciates the recognition.
"I appreciate their thoughts; aside from teaching at De Soto, Mill Valley's all I know and I have a special connection to it. There are so many people who have been a part of the success of this school, I would hate to be the one identified as the face of Mill Valley," Bogart said. "Plus, Mr. Keal has a better-looking face than I do."
(Visited 46 times, 1 visits today)