College signing ceremony features 34 student athletes
Gathered with their family, students signed their letters of intent on Wednesday, May 1
The college signing ceremony took place on Wednesday, May 1, featuring 34 student athletes who signed letters of intent to play various sports at the college of their choosing.   
For senior golfer Sarah Lawson, the decision to play for Wichita State University came after meeting with the coaches.
"It came down to which coaches I felt I got along with the best, and the vibe of the school," Lawson said. "For Wichita State, I absolutely love the coaches. I felt from the first [time] I met them, I immediately clicked with them. I understood where they were coming from, so I think they will help me become a better golfer."
On the other hand, senior soccer player Jake Ashford knew he wanted to attend Creighton University at an early age. 
"Since I was ten, I have always wanted to go to Creighton, so it was a done deal when they said they wanted me," Ashford said.
Senior cross country and track runner Delaney Kemp chose to go to Kansas State University, and running is a passion Kemp has had for her whole life.
"I have run all four years of high school, and I also ran in middle school, but it was just for fun in middle school," Kemp said. "It's still fun in high school, but it is on a different level."
Like Lawson, senior baseball player Quinton Hall chose to attend Wichita State University. He credits his capacity to deal with challenges as the most important quality to getting there.
"Attitude and the mental aspect to it is [the hardest part], and you can't just lose your head," Hall said. "You've got to keep fighting for your starting position or whatever you've got to do to get on the team."
Lawson is nervous to play golf at the collegiate level, but she is ready for the challenge and to work with the university coaches to become better at the sport she loves.
"I am terrified, but also so excited. Considering I have only been competitively playing four years, it is kind of incredible I am able to be at the collegiate level, and I am super thankful for that and all my coaches and stuff," Lawson said. "It is going to be a wild ride but I am so pumped."
The following seniors signed:
Cole Conner: William Jewel College, baseball
Jonathan Contreras: Butler County Community College, baseball
Quinton Hall: Wichita State University, baseball
Ethan Judd: Northwest Missouri State University, baseball
Alex Kremer: Briar Cliff University, baseball
Cole Moore: Central Missouri State, baseball
Presley Barton: Hutchison Community College, basketball
Claire Kaifes: Marquette University, basketball
Trinity Knapp: Missouri State University, basketball
Faith Dmyterko: Mid-America Nazarene, cheer
Rielly, Rittmann: Kansas State University, cheer
Tanner Moore: Augustana University, football
Jordan Preston: Kansas University, football
Chase Shryock: Baker University, football
Sage Sieperda: Emporia State, football
Dustyn Sweet: University of St. Mary, football
Cameron Young: Baker University, football
Christian Roth: Pittsburg State University, football and track and field
Sarah Lawson: Wichita State University, golf
Meredith Angelotti: Kansas Weslyan, soccer
Jake Ashford: Creighton University, soccer
Shyanne Best: University of Central Missouri, soccer
Kendra Bross: Park University, soccer
Brock Denney: Baker University, soccer
Grace Goetsch: Northwest Missouri State University, soccer
Caroline Rutledge: Missouri Valley College, soccer
Haley Puccio: Johnson County Community College, softball
Payton Totzke: William Jewell College, softball
Lydia McDaneld: UMKC, track and field
Erin Miller: Missouri Western State University, track and field
Delaney Kemp: Kansas State University, cross country and track and field
Sydney Pullen: Washburn University, volleyball
(Visited 137 times, 1 visits today)
About the Writers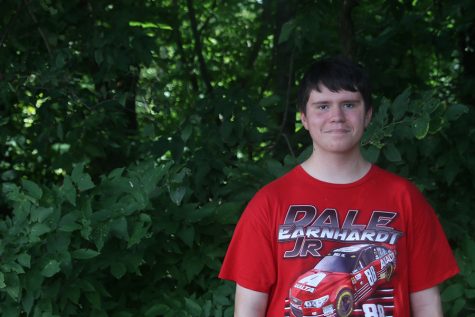 Sam Hanson, JagWire reporter/photographer
This is sophomore Sam Hanson's first year on the JagWire Staff. This year, he is a writer and a reporter. Sam is also involved with the Mill Valley Band, in which he plays the trombone. Sam is also an avid NASCAR fan, so he can be found at the Kansas Speedway anytime during race weekends. He is also very intrigued with parasites and anything pathological.
John Lehan, JagWire reporter/photographer
This is sophomore John Lehan's first year as a reporter/photographer for the JagWire staff. When not reporting, John participates in band, debate, cross country, bowling and track. On the weekends, John can be seen reffing soccer games at Stump Park, playing cards or eating popcorn whilst watching Netflix.