Coaching evaluations under scrutiny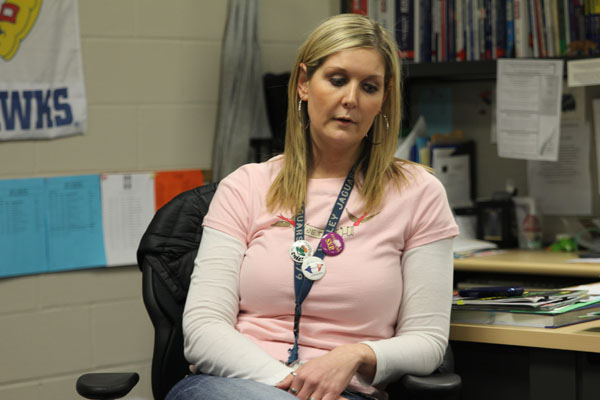 Sarah Darby, editor-in-chief
February 29, 2012
Recent allegations and events surrounding head volleyball coach Kim Service have called into question how the district evaluates its coaches.
According to Service, official parent complaints were filed against her for the first time in 10 years of coaching at the school as a result of a tournament at McPherson High School played on the day of the Homecoming dance. One parent, Service said, initially complained about the tournament to School Board president Tammy Thomas who then asked district athletic director Roland Van Whye to cancel the tournament. According to Service, she and Van Whye agreed to not cancel the tournament.
In the days leading up to the tournament, according to Service, Thomas called the McPherson tournament director, claimed she was Service and attempted to pull the school team from the tournament before admitting her true identity. The tournament director denied comment on the incident.
Thomas would not comment on the incident or issues relating to the tournament but released a statement.
"I am aware of the claims being made by a school district employee," Thomas' statement reads. "The allegations have no basis in truth and are rooted in questionable intentions. I will vigorously defend myself and my integrity and will continue to focus on my role as a Board member in providing outstanding educational experiences for all students of the district."
Service filed a False Impersonation complaint against Thomas with the Shawnee police department on Friday, Feb. 3 after she felt the issue had not been appropriately addressed by the district. The sergeant in charge of the case submitted a report to the prosecutors' office, who felt the facts of the case didn't meet the criteria for a crime.
Following the agreement to not cancel the tournament, Service felt she had made compromises with the girls, like leaving a day later for the tournament and allowing parents to take girls home from the tournament, and that the tournament was a non-issue. That was until the district said players would be allowed to miss the tournament without any consequences.
"At the time, I was obviously not very happy with the decision," Service said. "I felt like it undermined my authority as a coach…I was not able to give input into the decision that was made…I was told about the compromise the day my athletic director was going to tell the seniors about the decision."
Ultimately, five varsity players and four JV players attended the tournament. Service awarded provisional varsity letters to the JV players and gave T-shirts she had paid for to those who played at the tournament. One additional parent complained about the incident.
"The district considered that insubordination…That by giving a provisional letter to those girls who did play, that I was being insubordinate to those five girls who didn't play," Service said.
Following the incident, Service said nearly every negative aspect of her evaluation surrounded the tournament. Service says she has made three attempts to meet with the district athletic director and superintendent, but those requests were denied. Service also attempted to contact Thomas and was met with no reply.
To Service, her evaluation and the district's handling of the tournament was discriminatory against her as a female coach, coaching a female sport. In her evaluation, Service says she was told by the district that she was too competitive and should pick players who wanted to play for fun. In the aftermath of the incidents, Service is exploring filing a complaint against the district for violating the Equal Opportunity Act which addresses discrimination issues.
One parent who complained about Service declined to comment for this story and said they could not think of any other parent who would be willing to comment based on the sensitive nature of the topic and pending complaints.
The district evaluation process, in writing, measures head coaches on several categories. Based on a blank copy released by Service, the evaluation categories score coaches on administrative duties, organization of personnel, care and maintenance of equipment, coaching performance, relationship with student athletes, professional conduct and communication with parents, staff and community. Coaches are then rated satisfactory, needs improvement in selected areas or unsatisfactory.
According to a district statement, the evaluation document is the same for all head coaches and created every year by the district athletic director.
"Our process for evaluating coaches is aimed at assessing qualities, knowledge and performance that, when properly balanced and applied, result in successful leadership of and for the program," the statement said. "…The instrument used to evaluate head coaches is designed to reflect the essential skills, knowledge and leadership attributes necessary to positively and productively guide the program and the student athletes that participate in it. Specific indicators are measured by rankings on a likert scale."
Some coaches have noted inconsistencies in this instrument, however.
According to Service, on Wednesday, Aug. 10, a general presentation was given about the evaluation process. On Friday, Oct. 7, all head coaches met again as part of a monthly head coaches' meeting about the evaluation process where she was given a blank print copy of an evaluation. Then, on Monday, Nov. 14, Service says coaches were called in again and were told the previous version of the evaluation was inaccurate and given a new copy.
According to Service, the new evaluation was similar but more extensive than the initial evaluation. Service likened the change to being told a test would cover five objectives but in actuality being tested on 10 when her final evaluation took place on Monday, Dec. 12. For example, she was graded poorly on not having practice plans with a written time schedule, but was not aware the plans would be part of the evaluation until three weeks after her season.
One coach, who wished to remain anonymous, also felt frustrated, when the opinion of senior athletes on head coaches was unexpectedly included as part of the overall evaluation.
"You're getting evaluated by all seniors, even the ones not on varsity," the coach said. "Given that they don't work directly with varsity coaches, is that fair to have them evaluate varsity coaches?"
What the evaluation process doesn't mention is the influence parent and Board member complaints have in an evaluation.
According to the district statement regarding the evaluation process, there is no specific protocol for parent complaints, but a hierarchy is encouraged.
"From time to time, parents and students may have concerns regarding academic or athletic matters," the district statement reads. "While there is no specific protocol in place for managing matters of this kind, school officials always encourage students and parents to address concerns at the lowest possible level."
School Board vice president Tim Blankenship said he couldn't speak for other Boards members, but handles parent complaints using a hierarchy.
"I can only say what I do in those cases," Blankenship said. "I'd recommend parents talk to their principal first, for all comments, it's always best to follow the guidelines of working with your principal first."
In practice, however, parent complaints and Board member action following those complaints has negatively impacted coaches, according to one anonymous coach. Two years ago, a parent complained about the coach to the district athletic director who sent it back to the coach. The coach, athletic director and parent all met and reached a resolution. Today, the coach said that same chain of command would not be followed if a parent complaint were received and that the School Board exercises excessive power over coaches and programs in the district.
"If the Board has a positive opinion of you, you're going to get exactly what you want," the coach said. "If they don't, you're going to get nothing."
The coach went on to explain the long term effect of this environment.
"I think that, with the direction we're going in this district, we're going to lose some great coaches," the coach said.
A second coach who wishes to remain anonymous also finds fault in the handling of parent complaints.
The coach's program was investigated after one parent complained about the program. The coach said they don't believe one or two parent complaints justify an investigation and that complaints are handled poorly in the district depending on who parents complain to.
"If parents come to our principal or athletic director, I think it's handled in the right way," the coach said. "There are parents that skip things and go straight to Board members and it's not handled in the right way because information is skipped or left out, misinterpreted, not communicated. Programs get investigated for wrongdoings that they're not even aware have been brought up."
According to the source, other districts handle complaints differently.
"Other districts or coaches that I know, it is stifled," the coach said. "It is asked, 'Have you talked to the AD [athletic director]?' And if the answer is no, then they are asked to talk to the principal and talk to the AD. There is a chain of command."
Two years ago, boys basketball coach Justin Bogart, who has coached at the school for 12 years, had to defend himself in front of the School Board after one or two parents complained about him. In recent years, he says the Board has expanded its reach.
"Coaches also want to work in an environment where the Board has empowered the administration in the evaluation of coaches," Bogart said. "It's my feeling that Board members have been more active in the evaluation process within the last few years."
Bogart questions this heightened role and says he would not still be the coach had he not defended himself.
"My question would be, why do we have administration, why do we hire an athletic director?…Why would we not want to hire, encourage and train an athletic director if Board Members want to take those responsibilities for themselves? One analogy would be, why do you have managers at stores to hire or fire employees if the owner does it himself?" Bogart said.
Senior soccer player Rayanna Gossett said athletes, rather than parents, should be proactive in dealing with a coaching issue.
"I feel like since we're in high school now, the parent should stay out of the coaching relationship and that it should strictly just be [between the] player and coach," Gossett said. "…[Parent complaints] bring more conflict because now there are a total of three or four people communicating instead of just the coach and player."
Head girls basketball coach John McFall, who has coached at the school for two years, has not dealt with any parent or Board scrutiny while in the district. McFall says the number of parent complaints that justify a program investigation cannot be quantified.
"If I'm doing something really bad, then it doesn't take 10, it's all relative to what it is," McFall said. "But hopefully the AD and principal realize that not every parent is going to be happy."
Service has begun to schedule and plan for the volleyball season next year with some delay following her negative evaluation. However, she feels her coaching position remains uncertain and has begun distributing her resume and seeking available jobs so she can coach next year, although she hopes to remain at the school. The district will not comment on Service's status as head coach.
"I have invested 20 years of my life into this sport and 13 years coaching," Service said. "To have that taken away, especially because one or two parents complained to a Board president who is their friend, that would be a rather unfortunate turn of events."
Service seeks to defend herself and other coaches.
"I feel it is my obligation to coaches and future coaches to stand up for what is right because if I've lost my position as head coach, all I have left is to stand up for what is right," Service said. "I feel confident in speaking on my position because I don't have anything to hide in what is going on. It's important for people to not make assumptions about what is going on, and to get both sides of the story."
(Visited 22 times, 1 visits today)