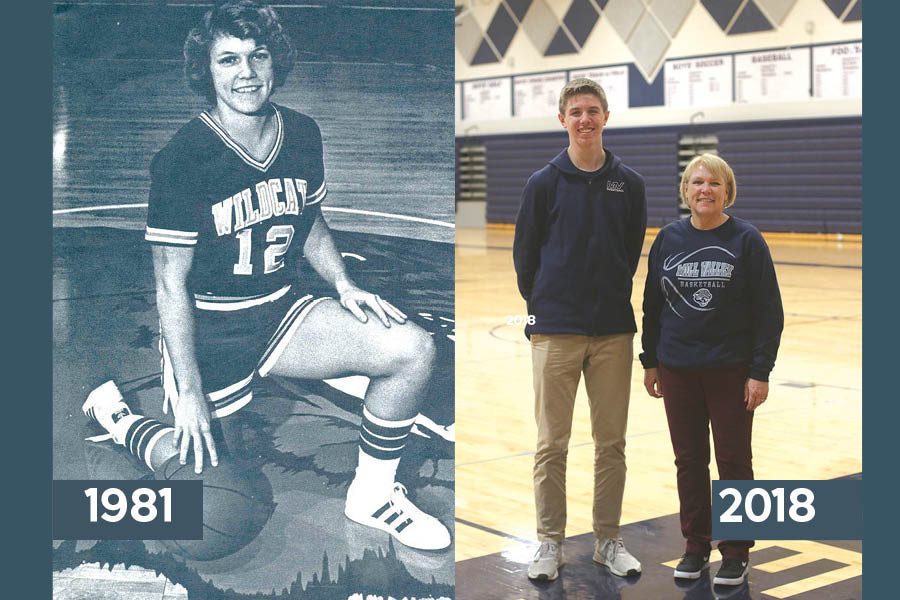 By Andrew Tow
Coaches suffer from gender stereotypes
Boys basketball coach Betsy Meeks faced gender-based discrimination in college
In light of the school's recent girls team state titles, one could easily conclude gender stereotypes in sports have dissipated. Although the imbalance between boys and girls in sports has been decreasing at Mill Valley, gender stereotypes remain an integral piece of history.
Boys basketball coach Betsy Meeks, who played basketball at Kansas State University from 1979 to 1983, faced gender related challenges during her years playing.
"I left my shoes in the training room one day … when I went back to get them and put them on, the [male] trainer had put shaving cream inside the shoes," Meeks said. "That was the silent 'you are not supposed to be here, I'm gonna make you pay.' He never would have done that to a boys player."
Discrimination was greater than one isolated event. When Meeks played, it extended from beyond the court to other places on campus.
"[In the cafeteria], we would go down the row and there would be a dish of steak and a dish of hamburger patties. [The boys basketball team] would come through and load up with a steak or two, and then we would get hamburger patties," Meeks said. "We [were] treated poorly everywhere."
Societal improvement can be seen at Mill Valley through students who value a diverse coaching roster. For example, junior basketball player Jacob Doyle appreciates Meeks' coaching based on factors other than her gender.
"It was interesting having [Meeks'] second perspective, especially since she played D1 basketball," Doyle said. "To me it is more about their ability to coach rather than their gender."
Sophomore cross country runner Jordan White said having a coach who doesn't share your gender can be beneficial.
"[I value] kindness and drive to coach," White said. "You are able to form relationships with someone that you normally wouldn't."
Although Mill Valley has made improvements, inequalities continue. Only 30 percent of sports teams are coached by women. Meeks believes things have improved significantly between her time playing and her time coaching, but there is still progress to be made.
"I think we've come a tremendously long way, but we still put down girls," Meeks said. "People say 'they're just the girls team.' We still need to keep growing, not just in sport, but in society in general. There's still definitely some bias – you can see with the way the girls teams were treated at the pep assembly. But we're making progress."
(Visited 149 times, 1 visits today)