Coach Travis Keal receives 5A wrestling coach of the year award
Head wrestling coach receives award to recognize work from the 2018 season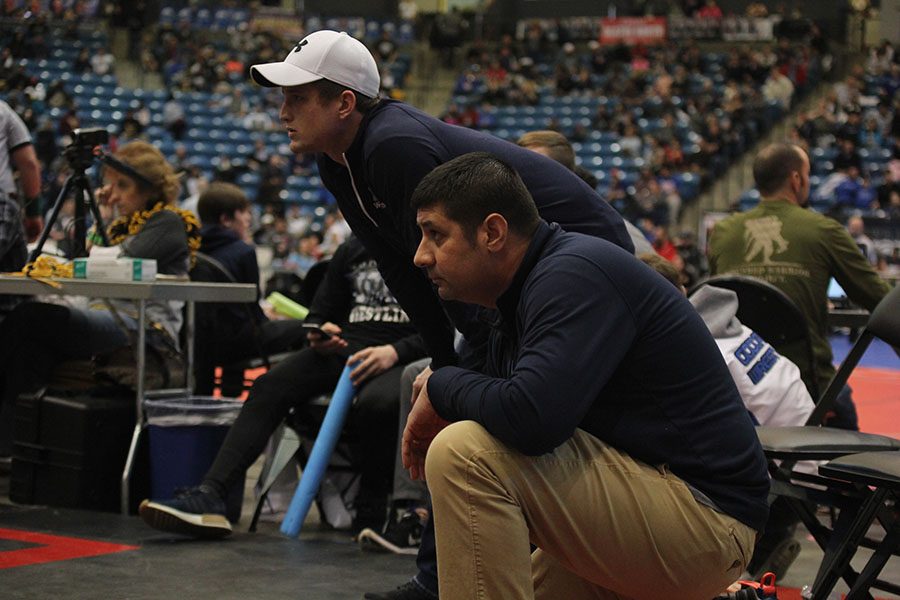 Head wrestling coach Travis Keal was named the Kansas 5A Wrestling Coach of the Year by the Kansas Wrestling Association on Thursday, April 5. He found out over Twitter that he received the award. The Kansas Wrestling Coaches Association chose Keal to be the recipient for the 5A division. The Kansas 5A Wrestling Coach of the Year Award serves as a purpose to honor head wrestling coaches that go above and beyond for their wrestling program.
Keal believes the award honors the hard work he and the wrestling community have put into this past season.
"It's the kids and the program that do all the work, [but] it's nice when your peers and coaches recognize your hard work and dedication," Keal said. "It just means the program is strong and we're doing the right things and we're building champions on and off the mat which is what we want to do."
This is Keal's second time receiving this award; the first time he won was in 2015. Senior wrestler Conner Ward was thrilled to see Keal win the award for the second time during his high school career.
"I was excited for him since he won it my freshman year," Ward said. "To have him win the award my senior year made me feel good for him and that people recognize his hard work."
Similar to the wrestlers on the team, assistant wrestling coach Drew Hudgins was also thrilled to hear Keal had won the award.
"[Keal] does a really good job, not only with our wrestlers here at Mill Valley, but wrestlers all over the area," Hudgins said. "He's always working with kids throughout the summer so it really doesn't surprise me at all when Coach Keal wins awards like that."
After being coached by Keal for four years, Ward believes Keal has left an impact on his life and has helped to improve his skills.
"He's got me to where I am today," Ward said. "He got me to win a state title this year and ultimately made me a better person and helped me get to where I am and get me to the next part of my life."
Hudgins believes that winning this award reflects Keal's character and who he is as a person.
"Coach Keal is someone who wins awards like this because first and foremost, the relationships he builds with his wrestlers and with the wrestling community," Hudgins said. "Everybody from little kids to dads, referees and old coaches know him and everybody enjoys having him around  and enjoys the style of wrestling he brings to Kansas wrestling every week."
(Visited 55 times, 1 visits today)