This profile is part of a year-long series called "I Am Mill Valley" that will showcase the talents, interests and achievements of the students and staff at Mill Valley.
For former head wrestling coach Travis Keal, getting inducted into the Kansas Wrestling Coaches Association Hall of Fame Saturday, Oct. 7, meant accomplishing all he had set out to do.
Having gone to the KWCA Clinic and Awards Banquet as a first-year head coach, and eventually serving as the president of the organization, Keal said it was an honor to have been chosen to be inducted into the Hall of Fame, which honors the greatest Kansas coaches and wrestlers. Keal describes how appreciative he was to his peers for the recognition of the time and dedication he put into his program over the years.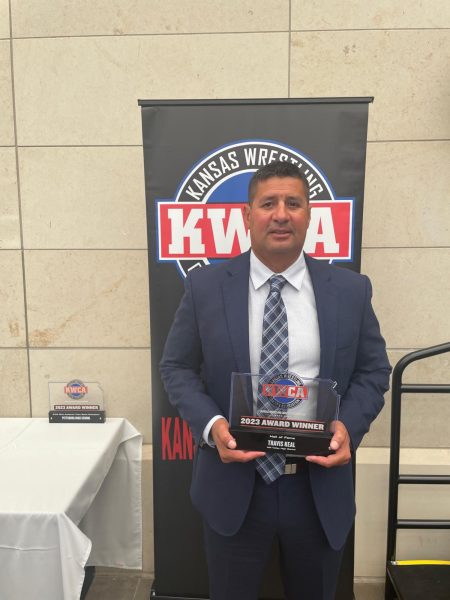 "To me growing up, hard work was what you were supposed to do, that's how I was raised by my parents. If you are going to do something, you work hard at it and you do your best, but just getting recognized by my peers as having done the hard work and making a difference in kids' lives was nice," Keal said. "Getting to be at the banquet to be recognized was nice after having helped to put it on in the past. Austin [Keal], one of my twins, came in from where he wrestles in Arkansas to give my introduction speech. Beyond that I had my wife, daughter, mom and dad, brother, mother and father in-law, and one of my past assistant coaches, Coach Sonner. Having all of those people there to celebrate that moment with me meant a lot."

When he started the Jaguar wrestling program in 2000, Keal had one major goal: to make a difference in his athletes lives. In order to accomplish this he knew he had to work hard to build a program where his athletes could grow in the wrestling room as well as in the real world.

This led Keal to create the Five Pillars of Jaguar Wrestling, Academics, Accountability, Attitude/Mental Approach, Position, and Technique. The Five Pillars embodied what he considered the most important aspects of being a wrestler as well as a student. Keal describes what the Five Pillars mean and what he hoped to accomplish by creating them.

"I wanted to teach kids how to go out and live not only in the wrestling room but how to go into the real world and be accountable to your family and your community. I wanted to teach them how to have a positive attitude through the struggling times. Anyone can have that positive attitude through the good times but I wanted to help them hold on to that attitude during the hard times as well," Keal said. "Being able to relate different situations back to the Five Pillars of Jaguar Wrestling made teachable moments easier. The Five Pillars were pretty important to me so that's what we built the program around and we lived by them daily for all those years."

If you are going to do something, you work hard at it and you do your best, but just getting recognized by my peers as having done the hard work and making a difference in kids' lives was nice.

— Former head wrestling coach Travis Keal

After having established the perimeter for how he wanted the program to be run, Keal went to work building a winning program. Following his first state medalist, Eric Pingleton in 2003, Keal's teams earned 68 state medalists, one every year since 2003, 11 state champions, 11 All-Americans, and 1 national champion. All of these accomplishments culminated in his 2020 6A boys wrestling state title. Keal expresses how the win made him feel as well as how important it was. 

"I was relieved and happy because you worked hard all of this time for a goal that everyone is going for every year and it's a tough thing to accomplish but I was very happy for our kids because they do the work. I was also happy for the community and the parents. It was just a happy moment for our Mill Valley Wrestling family and our school community," Keal said. "I was getting texts from people that were there way back when the school started just congratulating me and the team. It was an important win for a lot of people that have been a part of the program for many years."

As a winning coach, many would expect Keal to name many of his state and national accomplishments as his "greatest coaching moment" or "best coaching memory." However, Keal is a coach who is built on the idea that the athlete comes before the trophies. Keal explains how the everyday moments of seeing kids accomplish new things brought him the best moments from his coaching career.

"Helping the kids believe in themselves and accomplish something they, or someone else, didn't think they could do. I always get excited when kids have their championship moment. The championship moment can be anywhere from winning a state championship to a kid doing well on a math test. They aren't always winning things but they are winning moments to me and to that student athlete," Keal said. "My best memories were made by seeing kids go through the daily struggles, pick themselves back up, and stay on the journey. To me that's what coaching was all about. It wasn't just about winning trophies, it was about helping prepare them for situations 10 years down the line. That's what a coach and a mentor does, they help their athletes grow as people and students as well as athletes."

(Visited 217 times, 1 visits today)