Choir members earn top ratings at KSHSAA music contest
Due to COVID-19, modifications were made regarding the annual competition
The annual KSHSAA music contest took place Friday, April 9, and many of the competing solo and group choir members earned high rankings. Due to COVID-19 restrictions, the singing competition was electronically recorded instead of the usual live performance. 
The adjustments for this year's event made the process very different from any other according to choir teacher Jessie Reimer. 
"This year we recorded our performance and submitted the video for adjudication. Typically we travel to another high school in the area and perform live in front of three judges and other schools. We had different requirements and guidelines set by KSHSAA to help ease the stress and difficulties of the different learning environments," Reimer said. 
A positive component to the new methods had been the ability to repeatedly record the choirs' performance. 
"A pro of recording the performance was being able to record more than one take. However, this is also a con because the process of recording can be long and arduous. Plus, we lost the nervous and excited energy that comes from performing live in front of an audience and seeing our judges in front of us," Reimer said. 
For sophomore Avery Crabtree, being able to compete online allowed for a less frightening and nerve-racking singing experience. 
"We were able to do as many takes as we wanted to. Performing live we only have one chance but since we were recorded we could do as many as we wanted. We would've had to wear masks either way, that part was difficult. If we weren't online and did it in person I feel it would've been scarier. This year we knew we had more than one chance to do this," Crabtree said. 
According to Crabtree, performing with masks caused singing to be a more difficult and demanding task. 
"It [masks] took some of our sound away, so we had to sing louder. It was harder to hit notes and harder to listen to everyone because of the masks and having to be six feet away," Crabtree said. 
Reimer believes singing with masks proved to be a difficult barrier that choir members luckily overcame. 
"Performing in masks is harder because it muffles your sound. They also aren't the easiest things to breathe in, which makes singing harder. However, I'm so proud of how well students have adjusted to this obstacle. Some of the judges commented on our clear and crisp diction even with masks on," Reimer said. 
Entering in the contest involved a few extra steps, including uploading music and making copies of the recorded performance for the judges. Reimer stated that the process quickly became time-consuming, mainly with having to go through the tasks numerous times for all the different choir groups. In the end, it was all worth it to Reimer when the results of the competition were revealed. 
"I shared the information with each choir, group, or soloist. We received all 1's and 2's, so we were all very excited and proud of the hard work that went into the performance, especially considering all the hurdles we've had to jump this year. We also received a lot of helpful feedback from the judges that we will continue to implement in our rehearsal process," Reimer said. 
(Visited 42 times, 4 visits today)
About the Writer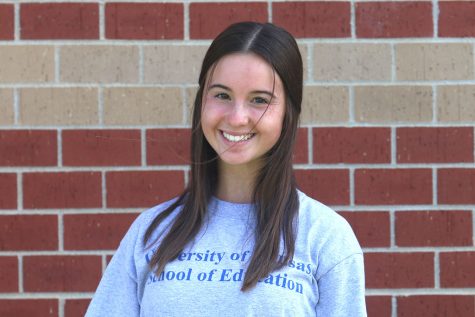 Madison Burrow, JAG reporter/photographer
This is sophomore Madison Burrow's first year on JAG yearbook staff. She will be working as a writer. Besides yearbook, she's a part of the school's tennis team and Relay for Life. Outside of school, Madison enjoys reading, playing soccer and spending time with friends and family.