Chen's Canvas: Vibrant Kansas City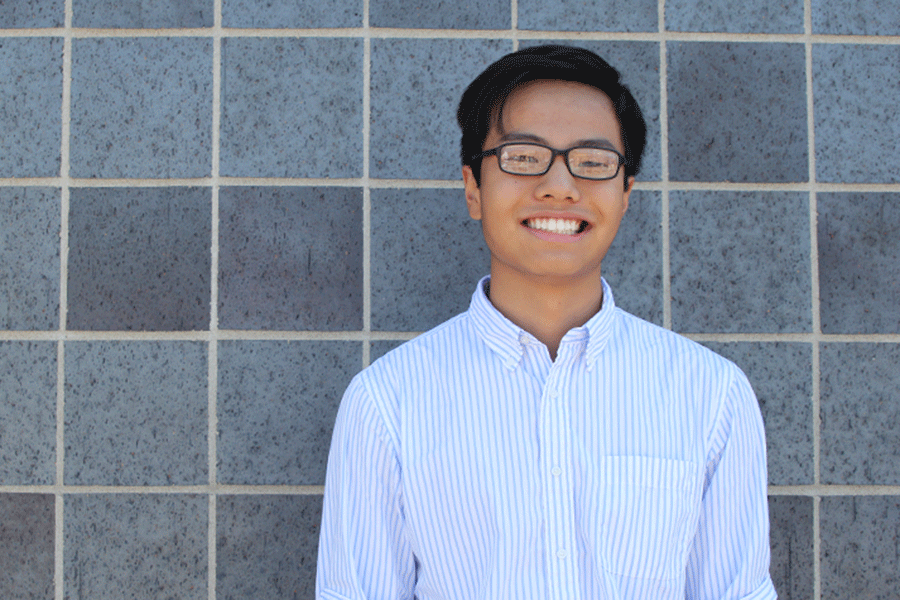 Jason Chen, JagWire reporter/illustrator
December 2, 2015
Last week was a break from Chen's Canvas because most of us were off eating turkey and celebrating Thanksgiving — I for one know I was. During the break, I not only indulged myself in good eats, but I also finished a painting for my AP Studio Art class. Today, we'll be examining the project that I completed over break — Vibrant Kansas City.
The task assigned to us in class was to complete an architectural painting of some sort using a specific color scheme. I kind of left out that color scheme part and sort of went crazy on the colors, but it ended up alright. The architectural inspiration for my piece is, of course, the Kansas City, Missouri, skyline with the Bartle Hall pylons as the main emphasis of the image.
Kansas City has been the focus in many of my pieces of artwork. The reason behind that is the recent surge in city pride, which inspired me to incorporate elements of Kansas City into my artwork. The skyline of the city is also quite unique — with the Bartle Hall pylon standing tall.
So, I decided to use the skyline of Kansas City as my reference for my painting once again, though this time it's an acrylic painting and not watercolor and pen. The painting was completed mostly during the day of Thanksgiving, and took around six or so hours to finish. I'm not the most experienced painter, so I tried my hardest with acrylic, mixing colors in order to create different values and shadows.
The painting ended up very well done in my opinion. With the vibrant colored skyline and the emphasis on Bartle Hall due to the bright red set against the yellow, the piece gave a distinct taste and a feeling similar to that of jazz. Jazz, which embodies Kansas City, is an element that I attempted to incorporate into this piece as well, with the use of bright colors and simple shapes and lines.
The painting also includes the use of pen to detail some of the buildings instead of purely relying on acrylic. The incorporation of pen was to convey the message that the city is not done developing; it's still discovering a renaissance in art and life.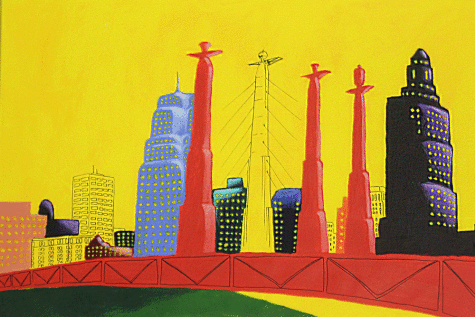 The city is ever growing and so is my collection of artwork. Like always, I'll be examining another piece of art next week.
Junior Jason Chen is quite the artist and his art reflects on a wide range of styles and topics through mediums that include watercolor, pen and ink, pencils and frequently a touch of acrylic. In AP Studio Art, his classmates regularly comment on having him "sacrificed to the art gods."
(Visited 42 times, 1 visits today)