Cheerleading hosts a showcase for community members
The cheer team hosted the showcase at Mill Valley on Monday, Feb. 27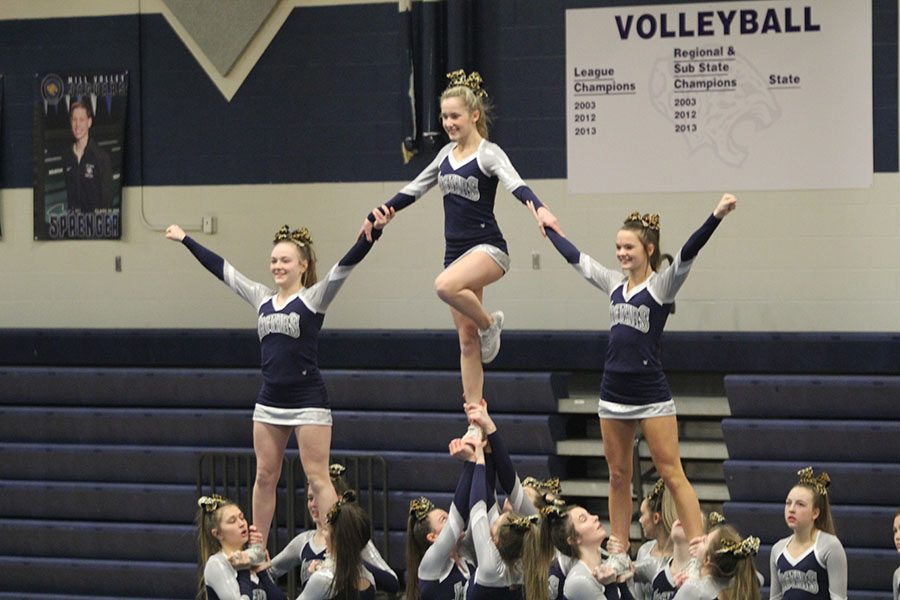 The cheer team hosted their sixth annual USD232 Cheer Showcase for parents and other members of the community at Mill Valley on Monday, Feb. 27. The goal of the performance was to show off what the team had accomplished during the season in their last performance of the year.
For sophomore cheerleader Allison Pham the event was a success
"The event ran smoothly and everyone seemed to have fun," Pham said. "[We] cheered each other on … and motivated each other."
Sophomore cheerleader Morgan Botts was happy to participate in the event again this year.
"The showcase is a tradition," Botts said. "We have it … to show family and friends the routines we have performed at competitions."
For Botts the team had to overcome a lot to get to this point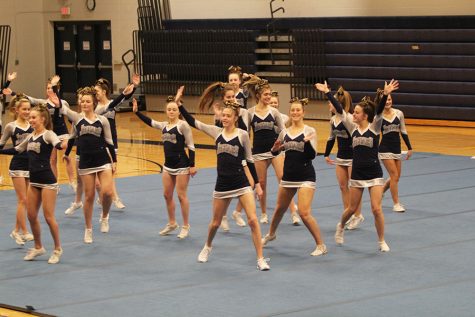 "We worked well together despite all the injuries and sickness," Botts said. "[Overall] it was was a success."
Pham felt the performance was very different from other competitions.
"It was more laid back," Pham said. "It was … [the] first time seeing other [De Soto] schools performance."
Since the showcase was their last performance of the season, Botts was happy with how the season ended.
"The showcase was a great way to wrap up the cheer season," Botts said. It shows what we have performed at competitions [all year]."
Next season Botts is hoping to keep improving and to keep getting good scores
"[Next season] we can make our performances cleaner," Botts said. "I hope we continue to get superior ratings."
Although the season is over Pham is hopeful the team will continue its success into the next year.
"We could always keep improving," Pham said. "I hope that we can maintain a positive attitude for the next season."
(Visited 179 times, 1 visits today)
About the Contributors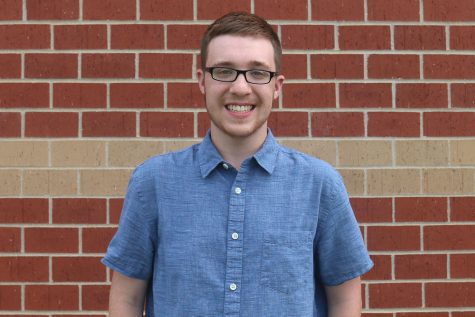 Tanner Smith, JagWire editor-in-chief
This is senior Tanner Smith's third year on the JagWire staff. He is undertaking the position of JagWire editor-in-chief. When he is not reporting the news, Tanner can be found acting as the president of Youth for Refugees and taking way too many AP classes. Additionally, Tanner enjoys sleeping, watching Netflix and listening to music.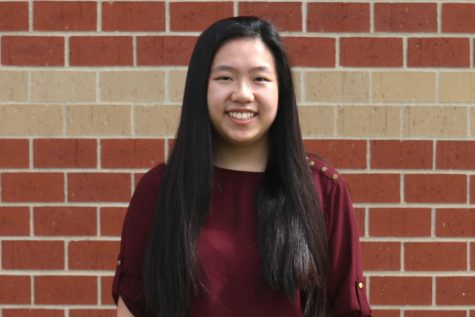 Hannah Chern, JagWire editor-in-chief
This year is senior Hannah Chern's third year as part of the JagWire newspaper staff and second year as one of the editors-in-chief. In addition to leading and working on the JagWire, Hannah serves as an NHS officer and participates in Science Olympiad where she expresses her love for science. Outside of school, Hannah finds herself spending her free time endeavoring the world of crochet, watching YouTube tutorial videos, reading books and discovering...