Cheerleaders earn two rating at competition
Hang on for a minute...we're trying to find some more stories you might like.
After adjusting to two new coaches this year, the cheerleaders have spent months preparing for competitions including The MidAmerica Nazarene Cheer festival competition they competed at on Saturday, Dec. 10. The team finished the competition with a two out of a possible three rating.
Junior Rachel Allen believes the team did its best at competition.
"Everyone told us we did well [at competition], we added difficult stunts to our routine," Allen said. "It was a difficult competition so I thought we did fantastic."
Senior Heidi Mustapich also thinks this most recent competition went well.
"I think the [competition] went really well," Mustapich said. "We've improved a lot since the first time we performed [the routine]."
Sophomore Stephanie Boyer said the team has improved on stunting since they have been working on that the most.
"We've been working on our stunts, and we have added more stunts this year because they are judging harder this year," Boyer said.
Mustapich attributes the success of the competition to their hard work at practice. The new coaches added practices three days a week at 6 a.m.
"Sometimes it's hard to get up and going early," Mustapich said. "It's not that bad anymore, because I'm used to it."
Allen agrees the practices have been tough that early.
"It was really rough sometimes especially when you were up late the night before," Allen said. "But it's worth it

About the Writer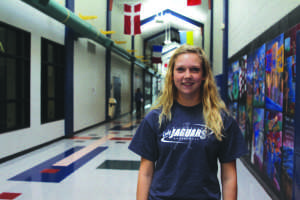 Lisa Joerling,
Senior post Olivia Frey starting playing basketball when she was four years old, and now she is one of two seniors on the 9 person varsity team.

"I...