Catty Shack holds grand opening for the new school year
The Catty Shack held their grand opening on Thursday, Nov. 3 drawing large crowds of students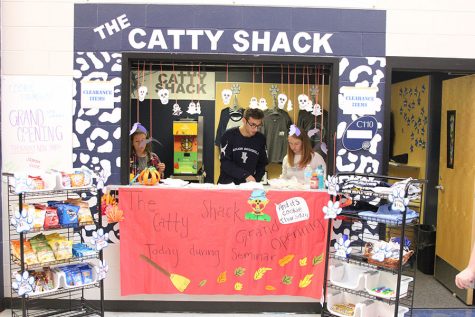 The Catty Shack had its grand opening for this school year on Thursday, Nov. 3. New spirit wear was introduced, including new t-shirts, a new quarter zip, and a three quarter sleeve shirt.
The original grand opening was supposed to be Monday, Oct. 31, but was pushed back to Thursday. This was due to complications with getting the new spirit wear to the store on time. Even with the setback, according to senior Catty Shack president Jack Campbell, the opening was still a success.
"I think it was a success, [and] we had a good turnout for the cookies, which seem to be a hit," Campbell said. "Just listening to students in line, I think a lot of students were impressed by the spirit wear and impressed by a lot of the other things we have to offer this year."
Advanced Marketing students have been preparing for the opening of the school store since August, according to business teacher Dianna Heffernon-Meyers.
"The first thing we do is we spend two months [learning] how to work together as a team and setting up the structure of the school [store]," Heffernon-Meyers said.
According to Heffernon-Meyers, the students and herself have run into a multitude of problems, one being the new USD 232 Student Nutrition Director, Jolyn Mortenson.
"She is not as familiar so we've just had to kind of slow down a bit and that has been kind of time consuming more so than years past," Heffernon-Meyers said.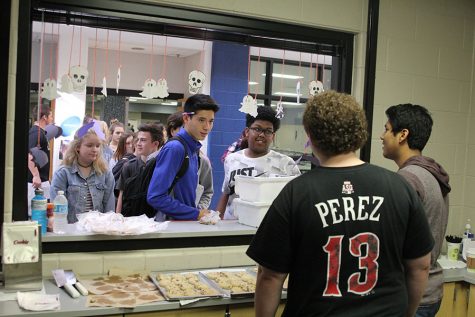 The pricing of the Catty Shack apparel has changed from last year, but the quality of the products matches the prices, according to Campbell.
"The prices may seem a little bit more expensive, but what we are offering is nice," Campbell said. "You really are paying for a great product and a great design."
Campbell has said he is looking forward to working with the team and the class.
"Working with this team and the seniors and the class is something I really look forward to," Campbell said. "I think we are starting off at a very good point and it's just going be fun to see where we are at by second semester."
(Visited 99 times, 1 visits today)