Butterbeer
December 16, 2020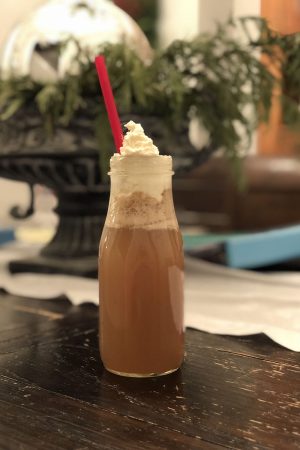 One of the movie and book franchises that many people know and love is Harry Potter. Butterbeer is a staple in the lives of both Hogwarts students and teachers. In Harry Potter, Butterbeer is commonly grabbed with friends and is nice for large gatherings. 
This recipe is super easy to make and doesn't take much time at all. All you need for the actual drink is cream soda and butterscotch syrup, and the other ingredients are used to make homemade whipped cream to top off the drink. When I was making this recipe I couldn't find butterscotch syrup anywhere so I substituted it for caramel syrup and it was still delicious. 
If you need something quick and easy this is the recipe for you. If you don't make the whipped cream the whole process probably takes less than 5 minutes. If you do want to garnish your Butterbeer with homemade whipped cream though, that process takes a bit longer because you have to whisk the ingredients together for about 3-5 minutes. 
While this is a good drink to have on a hot day, if you would like to have it in the winter months there are plenty of recipes online to try. 
Although this was a quick and easy recipe, I would prefer to drink regular soda because the caramel/butterscotch syrup made it thicker. I would also recommend waiting until you have put your drink in the refrigerator for a while before trying it because it is so much better when it is cold.
(Visited 1 times, 1 visits today)