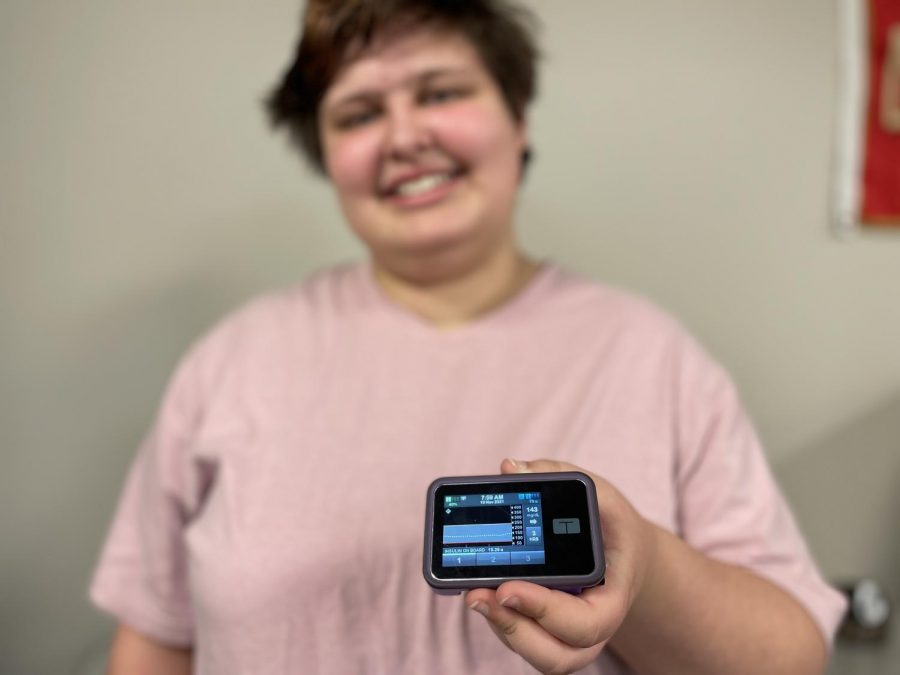 By Amy Hill
Bringing awareness to American Diabetes Month
Senior Elisabeth Peters shares her experience with diabetes
The month of November is also known as American Diabetes Month. Senior Elisabeth Peters is among the 210,000 Americans under age 20 that has diagnosed diabetes. Diabetes is a chronic disease that changes the way your body breaks down food into energy according to the American Diabetes Association. 
There are two types of diabetes: type 1 and type 2. In type 1 diabetes, the body does not produce insulin so it cannot break down food and use it for energy. In type 2 diabetes, which is the more common type, the body does not use insulin correctly. 
Insulin plays a major part in getting nutrients from food. More specifically, it is a liquid that allows the cells to take in glucose, which then allows the cells to turn the glucose into energy. 
Peters has been suffering from type 1 diabetes since she was in 6th grade and shares that the events leading up to her diagnosis were very scary. 
"I would be so hungry, and I would eat thirds at dinner, and you could still feel my ribs through my skin. I started getting sicker and sicker and sicker." Peters said. "I had to go to the hospital and I was about one day away from going into a coma."
Growing up after her diagnosis was also very different for Peters. 
"But I remember going to Sheridan's by the legends and wanting to participate in getting ice cream. We didn't know the carbs in [the ice cream], so I couldn't participate. And I remember that wrecked me," Peters said. 
Peters discusses that having good mental health, especially with diabetes can be incredibly challenging. 
"There are therapists that specialize in the intersection between diabetes and depression because they're so very often co-morbid, meaning they exist at the same time, mainly because it literally will not get better," Peters said.
Although having diabetes is an ongoing battle, Peters is thankful that she has the best technology to help her monitor her blood sugar. 
"I have the cutting edge of technology. My sensor works with my pump to give adjustments in insulin, so I don't have to do it manually," Peters said. 
Peters shares how the stigma around having diabetes can be super damaging to people diagnosed with the illness and how having diabetes has changed how she views food. 
"Diabetes is not a moral failing. It's so often treated as a punishment for being lazy or not eating well, that it's really dismissed. It's really just about managing your carbohydrates versus your proteins versus your lipids and how they work together. People think that eating healthy is eating less food when in reality, eating healthy is eating a variety and a balance of those macronutrients," Peters said. "Diabetes is a very serious and very deadly disease. It can wreak havoc on people's quality of life and it's not a joke."
(Visited 286 times, 1 visits today)