Bridget Roy finds love for dressing up through COVID-19 pandemic
February 17, 2022
Making light out of last year's hybrid scheduling, senior Bridget Roy began experimenting with her style and trying out new looks. Taking advantage of social media, Roy shared her newfound love of fashion with others online
"Last year during COVID-19, when I had a lot of free time, I would take pictures and post them to my [Instagram] story," Roy said. "[I would post] the outfits that I decided to wear, whether that was to school or to an event or anything, just to give people inspiration of what I like to wear. It wasn't anything crazy, [I posted pictures] whenever I wanted to and whenever I felt confident in the outfit I was in."
Although she is currently taking a break from social media, Roy continues to enjoy exploring the world of fashion. She believes that the variety of options allows each person to uniquely present themselves.
"I think [fashion] is a really valid form of self-expression, and I think it is something that public school [students] get the choice to do," Roy said. "I feel like a lot of people take that for granted, but I feel like it's really important for people to dress the way they love and not feel judged and pick what makes them feel confident and unique and express themselves."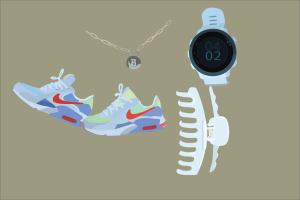 Roy has a love for many different kinds of accessories, which she enjoys incorporating into her various outfits. However, her love for shoes is particularly strong.
"I always wear my running watch," Roy said. "I love gold necklaces and jewelry, hair clips and my shoes. I love all different kinds of shoes. Nike, Air Maxes, XCs and all those different types, and I love customizing them and making them my own. I definitely like to express myself through shoes."
Even though Roy has not struggled with it herself, she feels there is a pressure for many girls to dress similar to one another.
"I know that a lot of people fall under the pressure of dressing like each other to fit in," Roy said. "I feel like that is something that I haven't struggled with, but I know a lot of people do in high school, just trying to wear exactly what others wear so that they can feel like they fit into that stereotype of the typical high school girl."
Ultimately, Roy aims to and believes that people should dress in ways that make them confident instead of conforming to how other people dress.
"I dress the way I do because it makes me feel confident," Roy said. "It shows a lot about your personality and a lot about who you are by how you dress. I feel like that's really prominent in why I choose what to wear. Whether that is my Christian beliefs or what sports team I love, we all have different ways of expressing and sharing who we are through what we wear, and I feel like that's really important."
(Visited 1 times, 1 visits today)