Boys tennis team places second in regionals
Three players qualify for state in regionals at Harmon Park
 The boys tennis team was successful at regionals at Harmon Park Thursday and Friday May 2 and 3 placing second overall. Three of the six competitors that attended regionals qualified for state.
Among the state qualifiers were senior Eric Schanker and doubles partner senior Jacob Hoffman. Coming into regionals they were seeded as the fourth team.
"Well, we were seeded fourth and we got third so I'm kind of glad we got one higher because now we'll have a better seeding for state," Schanker said.
Schanker thought they played well in order to achieve these results.
"I thought both me and Jacob played really well," Schanker said. "We definitely stepped up as a doubles team in comparison to other tournaments we've played."
Freshman Gage Foltz, who also qualified for state, was pleased with his results.
"I placed where my seed was so I'm pretty happy with it," Foltz said. "I'm happy with how I played. In the [match] that I lost, I wish it would have been a little closer but I'm happy with how I played overall."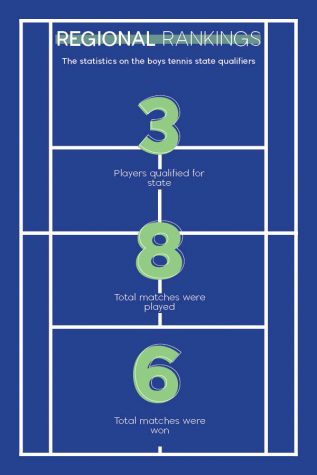 While Foltz was happy with his results, he faced some challenges along the way.
"Being a freshman and not really having the physical strength put me at a disadvantage most of the time and was a little tricky," Foltz said.
Schanker and his partner also experienced obstacles.
"I think the challenges were mainly just holding the energy and keeping our spirit alive the whole time," Schanker said.
Ultimately they overcame this by encouraging each other and high fiving.
Foltz achieved his previous goal of making it to state and is anticipating good competition.
"[My goal is] just to win a match or two, and that's pretty much it," Foltz said. "I mean I got there, and that was my only goal at the beginning of the season."
(Visited 288 times, 1 visits today)