Boys tennis places third at regional tournament
Seniors Landon Butler, Erich Schulz and Drake Brizendine and juniors Jacob Hoffman and Eric Schanker qualify for state
Anika Roy, JagWire editor-in-chief
May 5, 2018
The boys tennis team competed in the regional tournament at Pittsburg High School on Friday, May 4, resulting in a third place team finish. Individually, junior Eric Schanker placed fifth, the doubles team consisting of  senior Drake Brizendine and junior Jacob Hoffman placed third, and the doubles team consisting of seniors Landon Butler and Erich Schulz placed fifth. These top-five finishes qualified all five players for next weekend's state tournament at Emporia High School.
Butler was proud of the team's ability to come close to last season's second place finish at the tournament, despite having only one returning player.
"We lost five of six regional team members from last year, so most of us had to step up and significantly improve our games to fulfill those roles," Butler said. "To come close to our regionals success from last year, I'd say that is a very huge accomplishment."
Having to fill the five lost spots was difficult according to head coach Steve Bock, but he and assistant coach Mike Bennett feel accomplished to have developed such a strong team.  
"I'm real proud that we put together this quality of a team," Bock said. "We had it so easy last year … we were loaded. We had to reload a little bit this year."
Playing at the position of number two doubles all season and seeded ninth in the tournament, the team of Butler and Schulz was faced with tough competition on Friday.
"The competition was very difficult," Butler said. "For [Schulz] and I, we were the underdog in all of our matches, so we kind of always felt that we had our backs against a wall."
According to Hoffman, although seeded higher, he and Brizendine struggled early on with their connection as a team.
"At first we were having a lot of trouble finding our chemistry," Hoffman said. "We found it and then we were able to play good at the net and at the baseline."
The five will be take on many of the same teams they encountered Friday, in addition to many from regions around the state in Emporia on Friday, May 11. Bock is confident in the team's ability to put up a strong fight next weekend if they prepare.
"From now, it'll be rest up this weekend, try and have three really good practices and get after it, go compete," Bock said. "We have a good chance to keep going."
For Hoffman and Brizendine, this preparation includes practice devoted to ball placement.
"We've had to focus on hitting well from the baseline and on placement over power and not hitting it too hard," Hoffman said. "We will just have to keep focusing on what we've been focusing on and staying consistent. "
As the state tournament marks the last of the year, Bock is proud of how well the season unravelled.
"Throughout the course of the year, having these guys come in and be as good as they are and beat who they've beaten is awesome," Bock said. "I couldn't be prouder of them. They're crazy."
(Visited 47 times, 1 visits today)
About the Writer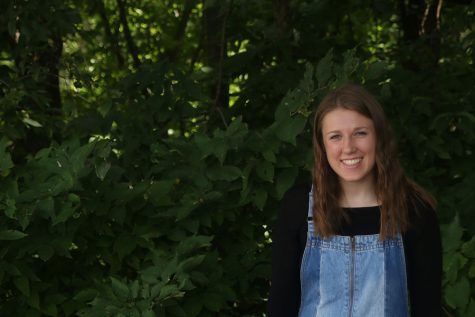 Anika Roy, JagWire editor-in-chief
This is Anika Roy's third and final year on staff, and she's incredibly excited for her position as editor-in-chief. While you can find her in the journalism room almost all the time, she also spends free time on the tennis courts, the piano, the swimming pool, or her church. Additionally, she's an officer of NHS, an executive leadership team member of Relay for Life, and a member of Spanish Honor Society, MV Outfitters, and Student Ambassadors....