Boys tennis defeated in tournament at home
The team placed second in tournament on Wednesday April, 19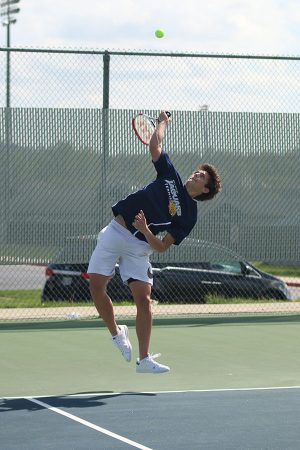 The boys tennis team placed second in the home tournament against St. James, Atchison, Ottawa, De Soto and Lansing.
Senior Adam Grube thought that their time commitment to practice helped them in the tournament.
"I feel like we played well as a team," Grube said. "We had been working hard the past few weeks and it showed."
Falling short of a loss, Grube believes there are things he and the team need to improve and work on.
"I feel like we could improve on our serves," Grube said. "I for sure need to hit the courts and work on the line because we are giving away too many points on double faults."
Sophomore Jacob Hoffman says that he and his doubles partner, junior Bradley Teasley, are a strong team due to their similar skill levels.
"Our doubles success [comes from being] pretty much the same skill level," Hoffman said. "We [also] have the same abilities we both are really good at the net and good playing back as well."
On the other hand, Grube says his success in doubles came from the close bond between him and his partner, senior Spencer Butterfield.
"What made our matches so successful is our team chemistry," Grube said. "My doubles partner and I have known each other for 15 years, so we definitely know how each other play."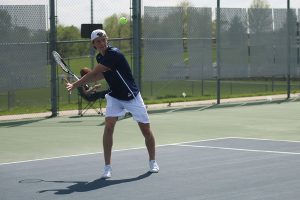 During their matches, the weather served as a challenge for all the teams, according to Grube.
"[A] challenge we faced was the wind," Grube said. "Tennis is much different during a windy day as it is a good equalizer for teams."
(Visited 177 times, 1 visits today)