Boys swim places first in first meet of the season
Four swimmers placed first in their events at the Mission Trails Middle School meet
The boys swim team competed in their first swim meet of the season against Olathe West and St. James on Tuesday, Nov. 27th. The meet took place at Mission Trails Middle School, where the team placed first overall with a total of 109 points.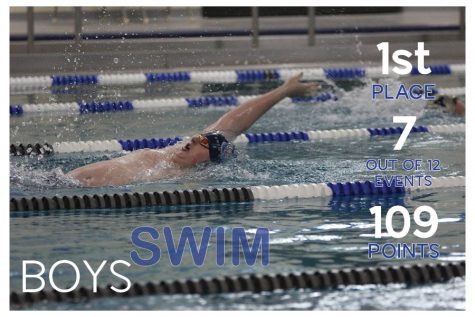 A relay team consisting of freshman Ryan Biven, junior Colby Beggs, junior Logan Myers and sophomore Cole McClure placed first in the 400 yard free relay with a time of 4:06.05. Overall, the team took first in seven of the twelve events in the meet.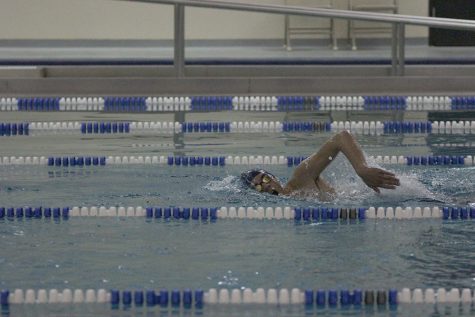 McClure was impressed with the talent displayed at the first meet of the season.
"Our team did really well, we haven't swam in a week and everyone did their best," McClure said. "We have a few new people and they still have room for improvement."
Beggs and McClure also separately placed first in two events. Beggs placed first in the 200 yard individual medley and the 100 yard fly. McClure won the 200 yard freestyle and the 500 yard freestyle.
Junior Logan Myers competed in three events, placing first in the 100 yard backstroke with a time of 1:07.13. With the short time the team had practiced, Myers believed the team was successful.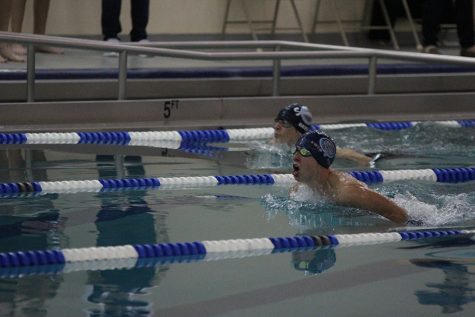 "[This] meet was a pretty good meet, we have a lot of things to work on and lots to start practicing," said Myers. "[With the season] starting just two weeks ago and then Thanksgiving break happening, I think we did our best with what we [had] practiced."
Despite the lack of preparation, Myers was enthused about the team's performance.
"The team did pretty good, [especially since] for a lot of [our members] this [was] their first meet ever," Myers said. "For me, I got all first places which were really good and I got really close to a personal record on my back stroke.
Looking ahead, McClure believes the energy of the team is strong.
"Our freshmen are really-they appear really driven," McClure said.  "I think that's gonna help out a lot this year."
The boys swim team next competes on Saturday, Dec. 1 at Lancing High School.
(Visited 93 times, 2 visits today)
About the Contributors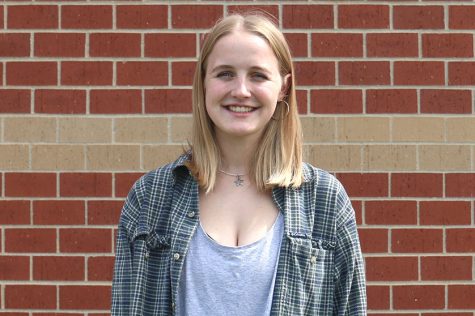 Molly Smith, JAG editor-in-chief
This is senior Molly Smith's third year on the JAG yearbook staff. This year she is taking on the position of editor-in-chief of the yearbook. At school, Molly can be found in the theater participating in plays or musicals or in the band room where she is a part of both the marching band and the jazz band. In addition, she works toward her service hour goal for the NHS. In her free time, Molly enjoys making playlists, painting and walking in creeks.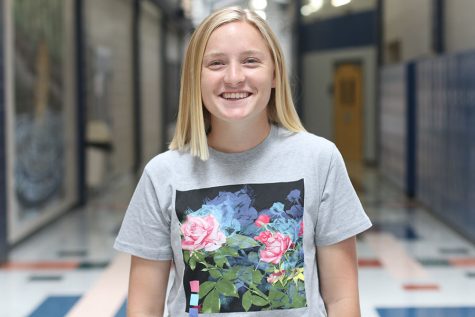 Anna Ricker, JAG assistant web editor
This is senior Anna Ricker's second year on the JAG yearbook staff. Anna is the assistant web editor and a photographer. She is also in the National English Honors Society, on the Mill Valley cross country and girls soccer team as well as the KC Fusion soccer club 01 girls academy team. She enjoys being outside, hanging out with her friends and dogs, doing DIY crafts and traveling.