Boys swim places 14th at state
The team competed against 31 other schools at the state meet in Topeka on Saturday, Feb. 20
The boys swim team competed in the 5A state meet in Topeka on Saturday, Feb. 20. The team placed 14th overall out of 32 teams.
Individual swimmers as well as relay teams made it to finals on the second day of the meet. Top five finishes included junior Garrison Fangman, who placed third in the 100yd fly, and junior Mitch Willoughby, who placed second in diving.
Assistant coach Kirsten Crandall was looking forward to seeing everyone do their personal best, but already felt good about the team's performance throughout the season.  
"Going into state, we were already pleased with what we had done throughout the season. We had already broken some of the school records, the guys were dropping time, they had performed really well at league," Crandall said. "We were mostly just looking to finish the season strong. We were already pretty satisfied with where we were at, so we just wanted to break the top 20 place-wise."
Willoughby competed in diving at the meet and felt ready but nervous at the same time going into it.
"I was excited to compete, but it was also very nerve-wracking knowing that there were so many people there," Willoughby said.
According to Crandall, the 14th-place finish was even more than the coaches and swimmers had hoped.
"We were really surprised and excited by the 14th place, because our goal was just to get in the top 20. The fact that we broke the top 15 was really exciting for us," Crandall said. "Our guys had some of their best swims, and being able to have all of our relays in scoring position for finals was a really big deal. We did better than we were ever expecting to."
Willoughby placed second in diving, and, despite a rough second day of competition, was proud of his finish.
"Getting second place was exciting, it felt really good," Willoughby said. "It was a little upsetting because, going into the finals I was in first, but I had an off day, so it ended up bringing me down. But still, it was exciting to place second out of all those people."
The three relay teams qualified for finals, which the team members and coaches were hoping for.
"One of our goals for the state meet was to see all three relay teams make it back to finals, which they did, so that was awesome," Crandall said.
Looking at the season altogether, Willoughby is satisfied with how he and his teammates performed.
"Overall, I think the season went very well for me and for everyone. I was able to meet a lot of my goals. I felt like I competed strong and did the best that I could at every meet," Willoughby said.
The swim program went through many changes this year with coaching and overall setup. However, Crandall is proud of the team and how they adapted with all the new things.
"I think the season as a whole was really successful. There were a lot of changes that the program was having, the team was the largest it's ever been, so a lot of new things going on and new people on staff," Crandall said. "I think the guys had a lot of fun. We broke seven school records, and I think it just kind of shows that everything really went right this season."
(Visited 15 times, 1 visits today)
About the Writer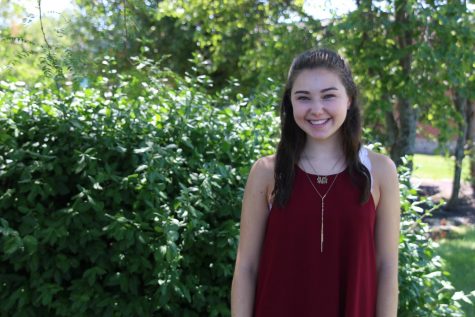 Allison Winker, JAG editor-in-chief
This is senior Allison Winker's third year on the JAG yearbook staff. She will be co-editor-in-chief this year, as well as a reporter and photographer. Other than yearbook, Allison is a part of the varsity debate team, NHS, student ambassadors and Relay for Life executive committee. She also loves coffee, dogs, dancing, Pinterest and all things Kansas City.