Boys swim and dive places 11th overall at the state meet
Three swimmers medalled on Friday, Feb. 17 at the Capitol Federal Natatorium
Boys swim and dive placed 11th overall at the 5A state competition on Friday, Feb. 18 for the preliminary rounds, and Saturday, Feb. 19 for the final rounds. The two-day event took place at the Capitol Federal Natatorium in Topeka.
A first team all-state medal was awarded to senior Mitch Willoughby for placing first in the diving portion. Senior Garrison Fangman and sophomore Chris Sprenger received medals for second team all state, meaning they are considered some of the best swimmers in the state of Kansas.
Assistant Coach Kirsten Crandall thinks that preparing the younger swimmers for the competition throughout the season was essential.
"I feel like the team has taken the whole season to develop," Crandall said. "With only a handful of seniors and so many fast freshmen, we had to get used to each other. All of our relays were different so just working on a cohesive team was what the goal was for the whole season."
Fangman, who swam in two relays and two individual events, believes going into the preliminary round was more relaxed than going into the final round due to his previous experiences and his thought processes.
"Going into preliminaries, I had a pretty good idea that we were gonna make it into finals for our relays and I might've been seeded 10th and 16th in my two individual events, but I always make it to the finals at state and I had planned on making it again," Fangman said. "[For finals,] I'm not sure if I was mentally prepared. I was more focused on closing out my senior year on a good note."
A new face to the team, freshman Colby Beggs, believes he and his relay team did well at state.
"State as a freshman is exciting," Beggs said. "We did good and our relays were really strong; we dropped a lot of time."
Crandall agrees with Beggs and is excited for the upcoming season.
"Overall, it was a really successful season. We've got a lot of up and coming swimmers now for the program and I think the guys had a lot of fun," Crandall said. "We turned out at state in ways I never thought possible, so it was a great season."
Results are as followed for the final round:
The 200-yard medley relay consisting of freshman Colby Beggs, sophomore Chris Sprenger, junior Carter Lawson and senior Garrison Fangman placed 13th with a time of 1:45.89.
The 200-yard freestyle relay also consisted of Beggs, Sprenger, Lawson and Fangman and placed 10th with a time of 1:34.82.
In the diving portion, senior Mitch Willoughby placed first with a score of 445.70.
In the 200-yard individual medley, Sprenger placed fifth with a time of 1:59.59. In the 100-yard relay, he also placed fifth with a time of 1:00.81.
For the 50-yard freestyle, Fangman placed sixth with a time of 22.72. In the 100-yard butterfly, Fangman placed fifth with a time of 53.40.
(Visited 34 times, 1 visits today)
About the Contributors
Ally Nguyen, JagWire editor-in-chief
This is senior Ally Nguyen's third and last year on the newspaper staff and she's extremely excited to take on her role as JagWire editor-in-chief alongside two of her closest friends. When not in C-101, she can often be found at the nearest coffee shop consuming an unhealthy amount of caffeine or driving around her two younger siblings, Dylan and Kate. Additionally, she is an executive leadership team member of the Relay for Life committee, a...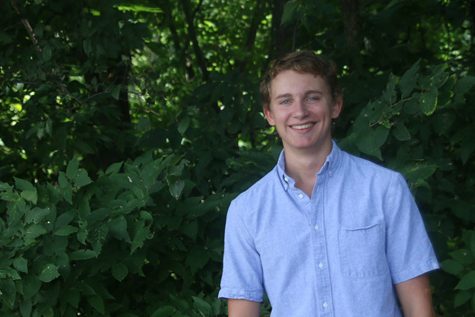 Jakob Twigg, JagWire sports editor
This is senior Jakob Twigg's third  year on the JagWire staff. He is an avid runner and also swims. Twigg is involved with the Student Leadership team, National Honors Society and the band. He loves doing a lot and is excited for the 2018-2019 school year.