Boys soccer dominates in 5-0 win against Liberty North
Team's record improves to 4-3-4 after high scoring game
Boys soccer beat Liberty North with the final score 5-0 Thursday, Oct. 17. Within the first four minutes of the game, senior Ian Carroll scored two goals, and the score only went up from there with three goals scored by junior Max Eber, senior Will Coacher and sophomore Yahel Anderson. 
With the season nearing its end, the team has been improving in every game but especially this game, according to freshman Owen Peachee. 
"We played like a team today and played strong the entire game," Peachee said. "We are really starting to get on the same wavelength and have been really connecting."
Sophomore Garrison Schrag agrees.
"It was a comfortable win and we all played with each other," Schrag said. "We were a team and that was a really good factor into us winning last night."
The successful game came after a slow start to the season, which Schrag believes is due to everyone trying to figure out the team dynamic. Schrag is hopeful of a successful run in the postseason after this game.
"We went into overtime in a lot of our games and, most of the time, nothing came out of it. The game would end in a tie and it took us an effort to get out of that, but I think we've figured [our team] out," Schrag said. "I think we can do pretty well in the postseason."
Peachee agrees that the team as improved.
"We have been connecting really good lately and this team is looking good," Peachee said.
The team's next game is Saturday, Oct. 19 at Bishop Miege.
(Visited 169 times, 1 visits today)
About the Writer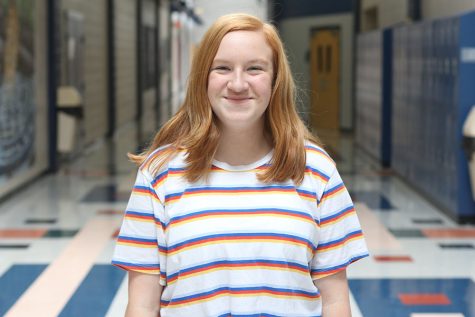 Claire Franke, JagWire reporter/photographer
This is sophomore Claire Franke's first year on the JagWire staff. She will be working as a reporter and photographer. Outside of newspaper, she can be found participating in Youth for Refugees and MV Outfitters. In her free time, she enjoys watching Netflix, hanging out with friends and listening to music.