Boys soccer defeats Shawnee Mission South 3-2
The Jags will advance to regionals championship after winning their first postseason game on Tuesday, Oct. 23
Anna Owsley, Mill Valley News editor-in-chief
October 24, 2018
Boys soccer beat Shawnee Mission South 3-2 on Tuesday, Oct. 23, earning a spot in the regionals championship game.
Eight minutes into the first period, Jake Ashford scored the first goal of the game off a pass by junior Riley Ferguson, giving the Jags a 1-0 lead.
"Riley [Ferguson] made a great run out wide and I just ran the box," Ashford said. "He played it right to my foot."
Senior Caleb Brown scored 22 minutes into the first half. With the score at 2-0 for the Jags, the team was set up well for the rest of the game, according to Brown.
"We made our presence known pretty early and got a good lead in the beginning, so we didn't have to try and hold them off the whole game," Brown said.
Ashford extended the Jags' lead to 3-0 with 18 minutes left in the first period, defeating SMS's weak line of defense.
MV leads 3-0 over SMS at 18:08 after a goal scored by Jake Ashford. Go Jags!

— Mill Valley News (@millvalleynews) October 23, 2018
"Their players sort of messed up, I don't know if [their player] didn't see me or what he was thinking, but he sort of just played it right to me, so it was easy [to score]," Ashford said.
SMS scored a goal two minutes into the second half, bringing the score to 3-1. Junior Bennett Doyle thought the lack of team unity and overconfidence was the cause for their weaker performance in the second half.
"We just couldn't communicate out of the back. Second half, we just got a little too cocky. We just let them come back into the game," Doyle said. "We weren't ready for them."
With thirty minutes left in the second period, SMS scored the last goal of the game. This ended the game with a score of 3-2 to the jags. Vomhof perceived the team's lacking defense as a result of players' slower field movement.
"It started with some people not getting back. We fought for a ball, didn't get it cleared well enough and it came across," Vomhof said. "The second [goal they scored], we were slow getting back and they won the ball in transition."
While the outcome of the game advances the team to the regionals championship, Doyle believes the ending score may also cause other 6A teams to perceive the Jags as less of a threat.  
"I think teams might see the score [of this game] and underestimate us a little bit," Doyle said. "Seeing we only beat a 15 seed by one goal, they may take us a little light."
Regionals and state are a unique experience this year because of the switch to 6A, so the Jags will have to face teams they are unfamiliar with, according to Vomhof.
"[This game] gets us to play on Thursday against Shawnee Mission West, which will be a tough game … kind of like tonight," Vomhof said. "We haven't seen these schools before so we are kind of going against blind opponents."
Boys soccer will play in the regionals championship game against SMW on Thursday, Oct. 23 at 5 p.m.
(Visited 82 times, 1 visits today)
About the Writer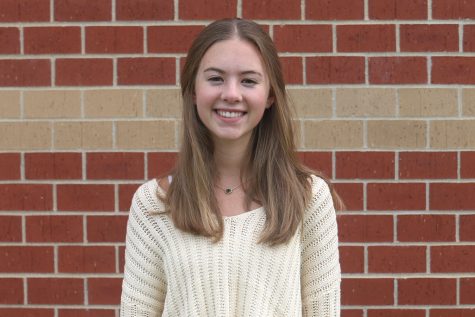 Anna Owsley, Mill Valley News editor-in-chief
This is senior Anna Owsley's third year on the JagWire staff. She is thrilled for her second year as Mill Valley News editor-in-chief and is undertaking the position of assistant editor for the newspaper. When Anna isn't busy with journalism duties, she can be found working, volunteering for NHS or multitasking homework and her current Netflix show. Additionally, she loves reading, watching movies, getting coffee with friends and traveling.