Boys soccer team beats St. Thomas Aquinas
Jaguars' increased intensity in the second-half results in a 2-0 win
Anna Owsley, Mill Valley News editor-in-chief
September 13, 2018
The boys soccer team won against St. Thomas Aquinas with a score of 2-0 on Tuesday, Sept. 11.
The slow first half of the game reflected the Jaguars' poor performance against Aquinas in both season games last year that resulted in losses. 
Head coach Arlan Vomhof believed that the Jaguars needed to match Aquinas' intensity to overcome their defense.
"[Aquinas] came out first half and they were really high pressure on us," Vomhof said. "We weren't as much so we changed that."
At halftime, the team made a few changes to improve their performance against Aquinas. 
"[In second half] we increased our pressure and our speed of play … we kind of moved the triangle [of players] around which gave us an opportunity to move stuff up above," Vomhof said. "I would say number one [strength of the team] was we started to become a cohesive unit and played together."
According to junior defender Riley Ferguson, a significant impact of the halftime pep talk was the development of teamwork that lead to the Jaguars' success.
"We really bounced back. We had … not [been] able to play as a team, but we really came through, played as a unit and got the win," said Ferguson.
These changes helped the offense to take possession and make progress. Junior forward Ian Carroll took the ball near the goal, and it fell into the possession of junior forward Wesley Sirivongxay. Sirvongxay made a pass to senior midfielder Jake Ashford who made the goal that gave the Jags the lead.
"It felt amazing going up 1-0 against them," Ashford said. "[Sirvongay] made a great run playing it across and I just tapped it in, but it felt great."
The Jags extended to their lead to 2-0 when Carroll stole the ball and was able to get past defenders to score.
"That was one of the best goals I think I've ever scored and it just felt so good against Aquinas," Carroll said. "One of their players lost it at the top of our box and I made a run, passed about two players and then just slotted it in."
After the second goal, the team maintained their intensity and finished off with a win. Ferguson hopes the win will give the team momentum going forward in the season.
"This [game] was huge for us mentally, because last year we lost to them in state," Ferguson said. "We were able to bounce back and we have a lot of confidence going forth." 
(Visited 74 times, 1 visits today)
About the Writer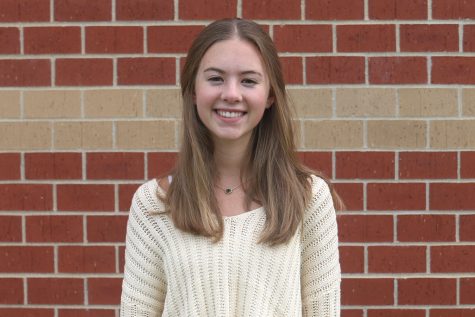 Anna Owsley, Mill Valley News editor-in-chief
This is senior Anna Owsley's third year on the JagWire staff. She is thrilled for her second year as Mill Valley News editor-in-chief and is undertaking the position of assistant editor for the newspaper. When Anna isn't busy with journalism duties, she can be found working, volunteering for NHS or multitasking homework and her current Netflix show. Additionally, she loves reading, watching movies, getting coffee with friends and traveling.