Boys golf places ninth at tournament
Windy conditions leads to low placement at meet
The boys golf team placed ninth at the Prairie Highlands Golf tournament against 16 other teams on Wednesday, April 6. The team scored 358 points overall. On Thursday, April 7, the golf team played at Wamego Country Club and placed seventh out of 15 teams.
Although the team placed in the bottom half of the tournament on Wednesday, freshman Blake Aerni, who scored 97 points, was positive about the performance.
"[Wednesday] was alright. Some guys scored worse than they were hoping, but some guys scored did better than they were hoping, so that was good," Aerni said. "It was windy, so that definitely made it harder.
Sophomore Kyle Bonnstetter agreed about the performance given the windy weather.
"I thought [the meet] went pretty well," Bonnstetter said. "The conditions … weren't as good, but we fought through it and did pretty well as a team."
Personally, Bonnstetter said he did not play his best on Wednesday. However, he still improved with a score of 90, and is looking forward to more improvement throughout the season.
"[It wasn't] the best performance, but I've improved by one stroke," Bonnstetter said. "I would just like to go out there with confidence and not be so nervous. [I want] to shoot in the 80s once this year."
Despite the team's' lackluster performance, Aerni is optimistic about the golf season.
"I feel like we could probably win our league," Aerni said. "That would be a goal because the only other real competition is Piper, because they beat us. So, if we could beat them, that would be really good."
Aerni looks forward to making personal improvements as well.
"Personally, Wednesday wasn't quite as well as I was hoping," Aerni said. "To improve, I'd probably try to be in the top five guys each time [and] being consistent. Sometimes [teammates] might play better than me, but, as long as I'm playing my best, that's what really matters."
(Visited 33 times, 1 visits today)
About the Contributors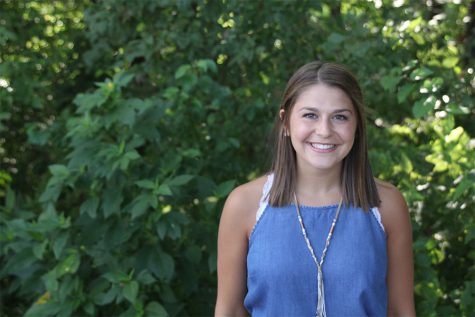 Morgan Gurwell, Mill Valley News editor-in-chief
Senior Morgan Gurwell is starting her third year on the JagWire staff and is taking on the role of Mill Valley News editor-in-chief alongside two wonderful ladies. In addition to being a NHS officer and a Relay for Life committee member, she can be found on the tennis court or swimming laps in the pool. She loves to travel, take her dog to the park and cheer on the Nebraska Cornhuskers.