Boys bowling takes third in meet
The team finished with a score of 2106 on Thursday, Jan. 17 at the Park Lanes meet
The boys bowling team took third place in its meet against DHS, SJA, Piper and Washington at Park Lanes on Thursday, Jan. 17. Placing behind Piper and DHS, the team collectively scored 2106, with one individual placing in the top five.
Coach Amy McClure felt that the team's overall performance wasn't quite to the standards they had set for themselves, but acknowledged the team's development.
"I think they have done a great job. I think they're working hard, and they're making improvements every practice," McClure said. "Varsity actually kind of struggled today, but they did take third. It isn't what we normally want to score, but we did take third overall."
Sophomore Devin Kuhlman, who scored a 507, remains optimistic the team's performance going into the future, but said that he still expected more from himself.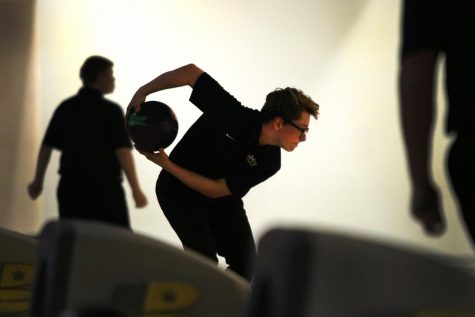 "I'm feeling pretty good about how [this year] has started off. I think we have a lot of good potential," Kuhlman said. "My overall performance is not to my standards though. I'm definitely trying to work on consistency in the lane. I have not been hitting my marks very consistently."
Despite challenges, McClure believes the team has done a great job of responding to coaching.
"It's sometimes hard for [the team] to focus because bowling is a fun sport, and sometimes we get caught up too much in just having fun and not focusing on practice. That being said, they have done a great job," McClure said. "They have been very receptive to Coach White and I and the suggestions we've made for practices or meets."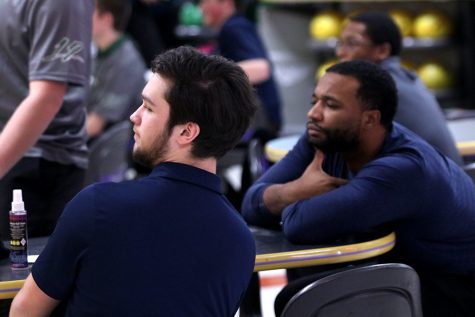 As a new coach, McClure didn't know what to expect going into the season, but is proud of how the team has come together.
"Coach White and I really didn't have expectations at all [going into this year] because we had never coached at all before. We really didn't have any experience with bowling, but so far it's been great," McClure said.
The bowling team will compete again on Tuesday, Jan. 22 at Olathe Lanes East.
(Visited 126 times, 1 visits today)