Boys basketball team wins four straight games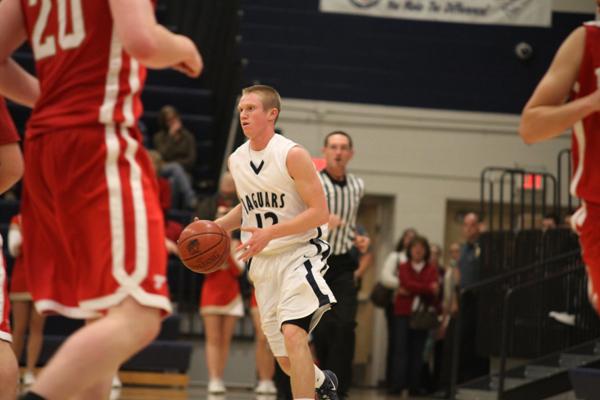 Cory Reinoehl, reporter
January 11, 2012
Over winter break the boys basketball team played twice, one game on the last day of school for the first semester, Friday Dec. 16, 2011 against the Turner Bears and the other against the Pirates of Piper High School on Tuesday, Jan. 3.
The team beat the Bears, 71-54. Sophomore Nick Friesner led the way, scoring his career high of 26 points. The team won again against Piper, 67-42, this time with junior forward Nathan Stacy leading in scoring with 27 points. Coming off the bench, sophomore guard Drew Boatwright had 13 points and shot above 83% from the floor.
On Friday, Jan. 6 the Jaguars played against the Tonganoxie Chieftains at Mill Valley. The Jaguars won the game, 77-65. Stacy led the Jaguars in scoring and in rebounds with 26 points and 16 rebounds. Friesner also contributed significantly, scoring 16 points in the victory against the Chieftains.
The Jaguars played again on Tuesday, Jan. 10. The team traveled to Kansas City Kansas Community College to play the Cyclones of Bishop Ward High School. The Jags won yet another game, 56-37 with Stacy again leading the again in scoring with 14 points. Boatwright came off the bench and had a strong contribution of 13 points.
"We had valiant efforts from all the players on the team, along with stellar defense that eventually got us the win." Boatwright said about Tuesday's game.
Stacy also had his first career dunk in the game against Bishop Ward.
"It felt good [dunking] because [junior] Lj Hatch has been getting on my case about dunking, and it felt good doing it with him in the stands." Stacy said about his dunk.
With the victory against the Cyclones on Tuesday, puts the team's winning streak at four games.
"I think we are really coming together as a team, just playing well, passing and cutting, and it has lead to four straight victories." Stacy said.
The Jaguars now have improved to a season record of 5-2 and a conference record of 3-1. The team plays again Friday, Jan. 13, seeking another victory against the conference rival, Basehor-Linwood.
(Visited 11 times, 1 visits today)